How two men created historic Lancashire hamlet near Pilling
Nestled in the Over Wyre countryside, Eagland Hill is one of Lancashire's historic hamlets. Barry McCann sets out to research its fascinating history...
Tuesday, 26th May 2020, 3:45 pm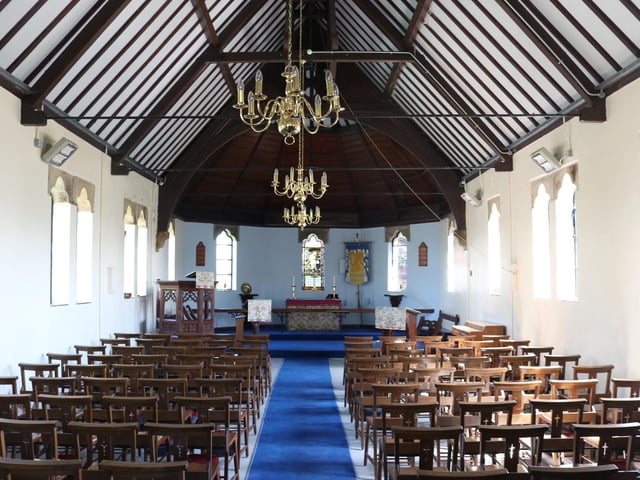 The interior of St Mark's Mission Church, Pilling
Part of the fascination of the Lancashire countryside is its historic hamlets, quite often tucked away off the beaten track and waiting to be discovered.
One of these nestles quietly Over Wyre near the village of Pilling, hidden away from the main roads but thrives as a community with its own mission church of St. Mark's. The nineteenth century settlement of Eagland Hill.
The hamlet was founded in 1813 or 1814 by two men, James Jenkinson and Joseph Hoyles (or Isles).
St Mark's Mission Church, Pilling
'Owd Jemmy', as James became known, was born in Kirkland 1786 and later married Ellen Fisher on 6 June 1808, at St Helen's Church, Churchtown. Once wed, James selected Eagland Hill as the place for his new farming homestead.
Eagland Hill Farm was already in existence at this time. It had previously been part of the five hundred acres of moss land belonging to the Eskham House Estate, until Joseph Hoyles became its first tenant around 1811.
He joined James Jenkinson in the building of houses to accommodate their growing families. Both men were only sub-tenants under the lease holder George Parkinson, as opposed to lessees themselves. As such received they received no help from the Eskham House estate. Not only did they have to build the houses themselves but also source all the materials needed, as well as the challanging task of ensuring the drainage and cultivation of the land.
The materials for building were largely local clay intermixed with heath for binding, and this process was an arduously slow one. Once the foundations were laid, about nine inches of clay wall was formed which then had then to be dried by the sun before work on the structure could commence. This process of building and drying slowly continued until the required height was reached, and the finishing touches applied with lintels of wood over the doorways and windows, and bond-timber in the walls to secure the buildings.
The hamlet of Eagland Hill
Joseph continued labouring at the Eskham House farm and devoted his evenings to the project, as did James who apparently walked the three miles from Churchtown after his daily work. The onset of shorter days and long winter evenings must have frustrated their efforts even further.
But their perseverance paid off and once their farm homesteads were established, a community evolved and by 1869 had grown enough to warrant its own church.
St Marks's mission church was erected by the Rev. J.D. Bannister, the foundation stone laid on 13 August by "Old Jemmy" who by then had turned 80.
It was actually built on the site of his original cottage, the altar standing where his fireplace had been.
The church was opened the following year on St Mark's Day, 20th April and was so convenient it also acted as an overspill fro St John's. St. Mark's became home to the medieval baptismal font rescued from the original St. John's chapel that stood in Newer's Wood before being abandoned for the newly built church in 1721. The first baby baptised there on 1st May was christened Mark Fenton who lived until 1948.
The church was subsequently joined by an adjoining schoolroom erected in 1871, replacing a smaller clay built school that stood nearby.
Having seen the community he helped start grow, James Jenkinson died in 1874 at Birks Farm and was buried at St John the Baptist's Church in Pilling, as St Mark's did not have its own graveyard. And while there was been building and rebuilding in the hamlet since, its layout has little changed and the church continues as a place of worship for its small congregation.