Blackpool weekend weather forecast: Watch our roundup for the resort before Star Wars: Andor filming wraps up in Cleveleys
Here's your weekend weather round up for Blackpool and the Fylde coast after an exciting week of Disney's Star Wars filming taking place in Cleveleys.
Friday, 7th May 2021, 11:25 am
The weather hasn't been able to make its mind up this week, with some lighter rain and a few heavier showers over the past few days, but gleaming sun on Wednesday.
Temperatures will warm up over the weekend, but it will still be wet and fairly windy.
According to the Met Office, Friday afternoon will stay mostly dry with sunny intervals.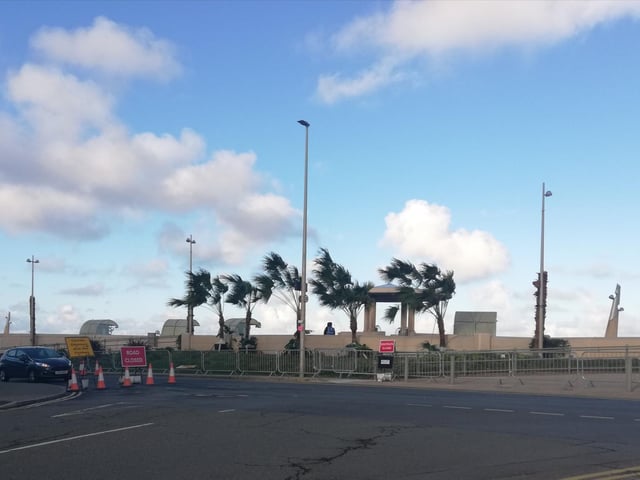 Cleveleys promenade has turned into a Star Wars filming set this week - but will this weekend's heavy rain affect it?
On Saturday, the weather will take a turn for the worse unfortunately, with heavy rain forecast all day. It will begin to subside by around 7pm, but light showers will continue through the night.
It will be a cloudy start to Sunday, with light rain coming in by lunchtime. However, it will be the warmest day we've had for a while, with maximum temperatures expecting to reach 15°C.
Looking ahead to next week, the rain will be staying put - with light showers forecast all day for Monday, Tuesday and Wednesday.
The talk of the town this week has been the filming for Star Wars: Andor which has taken place every day on Cleveleys promenade.
Production company E&E Industries and nearby security guards kept tight-lipped about which series is being filmed, but the arrival of Mexican actor Diego Luna on set appears to have confirmed the series is indeed Star Wars: Andor, an upcoming 12-part series created by Tony Gilroy for Disney+.
Mexican actor Diego Luna, 41, who also starred as cartel leader Miguel Gallardo in the Netflix series Narcos: Mexico, has been confirmed as reprising his role as Rebel Leader Cassian Andor, the series' protagonist.
Road closures are expected to stay in place until May 11, according to Lancashire County Council.
Friday: Sunny intervals throughout the day. Maximum temperature 10°C.
Saturday: Heavy rain all day. Lighter showers will come in by early evening, but it will rain throughout the night. Maximum temperature 13°C.
Sunday: A cloudy morning, with light rain set to appear by lunchtime. Maximum temperature 15°C.
Outlook for Monday, Tuesday and Wednesday:
Similar conditions for all three days, cloudy starts to the day with light rain by lunchtime. Maximum temperatures between 12 and 14°C.
The Blackpool Gazette is more reliant than ever on you taking out a digital subscription to support our journalism.
For unlimited access to Fylde coast news and information online, you can subscribe here.