The Nolan Sisters talk of 'honour' of receiving blue plaque in Blackpool
The star siblings say they are so proud of having a plaque commemmorating their success in Blackpool
Watch more of our videos on Shots! 
and live on Freeview channel 276
Visit Shots! now
The Nolan Sisters have opened up about the honour of receiving a blue plaque at the Blackpool Hotel where they performed 50 years ago.
Coleen, Anne, Denise, Maureen and Linda were there to witness the unveiling of the plaque at the Cliffs Hotel, where the siblings performed their first show on Christmas Day 1973, after which, the Nolan Sisters went on to find global stardom. The singing sisters were joined by the youngest Nolan, Coleen, in 1980.
Speaking to us about the event, Denise said: It was absolutely amazing. It was such an honour and when we found out we were so thrilled, we were like a dog with two tails. Long after we have gone, so long as vandals don't destroy it, it will still be there. It's amazing."
The Nolan family lived in a terraced house in Waterloo Road in Blackpool after emigrating there from Ireland and they often performed at the nearby Waterloo Road Working Men's Club.
Anne said the plaque symbolised a huge shift in their careers.
She said: "Even though we had worked in working men's clubs around England, Scotland, Ireland and Wales for ten years before that, it was actually the start of our move into television and recording because we met the guy who actually brought us to London 50 years ago at The Cliffs Hotel on Christmas Day.
"We signed a contract to move down to London - He had a theatre restaurant on Drury Lane which we worked in for about six years and once there we got onto the Cliff Richard series - our first time on TV and also started recording, so it was a massive thing for us that day at The Cliffs Hotel. It was synonymous with our career. It was a really big thing for us to get that plaque as that was the start of our TV and radio career."
"We didn't want to work on Christmas Day, we wanted to stay home, but it was short and sweet and the audience were amazing."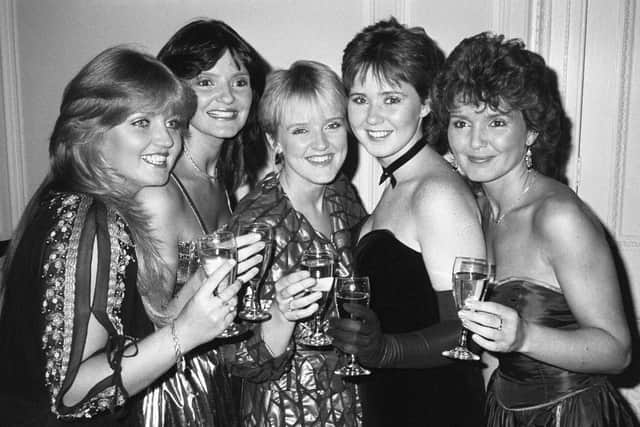 Coleen, the only sibling to be born in Blackpool, said the plaque made her feel so proud because it is in her hometown.
She said: "For me the blue plaque - I was so proud, proud of Jake and the kids for sorting it and just to get that recognition because Blackpool has and continues to have such a massive part in our lives. There was a moment there where I felt nostalgic and I would have loved for my mum and dad to have seen that, and Bernie, and sadly our brother Tommy could not be there on the day.
"I feel really proud, we always mention Blackpool - all my family still live in Blackpool. It was such a nice thing to happen as  Blackpool has been a massive part of our lives but equally we have been part of Blackpool's lives."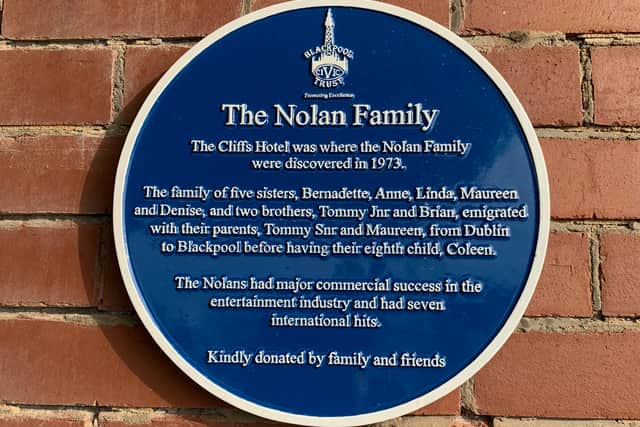 The Nolan Family's blue plaque was  installed through Blackpool Civic Trust and officially unveiled by Deputy Mayor Major Adrian Hoyle.
It states: "The Cliffs Hotel was where the Nolan Family were discovered in 1973. The family of five sisters; Bernadette, Anne, Linda, Maureen and Denise, and two brothers Tommy Jnr and Brian, emigrated with their parents; Tommy Snr and Maureen, from Dublin to Blackpool before having their eighth child, Coleen.
"The Nolans had major commercial success in the entertainment industry and had seven international hits. Kindly donated by family and friends."
The idea for the plaque came from Coleen's son Jake. Members of the Nolan family all chipped in towards the cost of it while keeping it top secret from the sisters.
Linda told us: "We were all so excited when it was put to us about the plaque.
"It was down to our nephew Jake, who got in touch with the hotel and the council.
The Deputy Mayor made a lovely announcement and when they unveiled it  we were like excited school kids.
"It's the kind of thing you read about happening to other famous people and it was happening to us. It was lovely that it was at the hotel where we performed our first show before we were taken down to London."