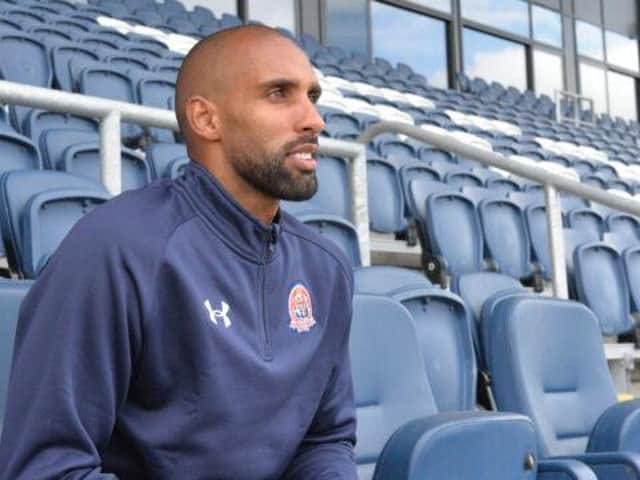 Nathan Pond is determined to prove his doubters wrong at AFC Fylde Picture: STEVE MCLELLAN
The Fleetwood Town legend, who has over 170 EFL appearances to his name, has dropped down two divisions from Salford City to join up with the Coasters.
And the 35-year-old defender, who spent 15 years at Highbury, has been reassured by Fylde manager Jim Bentley that age is no barrier and his leadership role will be key.
Pond told the club website: "Everyone was speaking about the way they want to go with this club and the ambition really suited me.
"Unfortunately last season didn't go the way they wanted but you can see there is a squad that's capable of getting back up to the National League.
"It's probably one of the reasons the manager wanted me as well – it's important to have leadership, not just on the pitch but off it as well and I do feel I can bring that.
"There will be a few lads who will be down as they're going to be playing at a level they didn't want to be at, but we all need to stick together and work hard to get back to where we want to be. Then from there, who knows?
"I was speaking with Jim (Bentley) and he mentioned that he's always had an older head in his side, such as Kev Ellison (who played for Morecambe last season at 40). So he's no problem with age, which is great for me.
"To me it's not a problem – if you're good enough and fit enough, then age doesn't matter to me. A lot of people will look at that and doubt me. I'll let them do that, then when they see me play they will change their minds.
"It's good to have a squad that is a mix. You don't want a load of players that are seen as old or young. It's good to blend both together and then you can bounce off each other. I hope I can play a part in helping anyone who may need it."
Fylde have suffered a shock relegation from the National League, having reached the play-off final the season before.
The aim is to bounce back at the first attempt and that is a challenge Pond is looking forward to. He added: "It's going to be a tough league. There are some former league clubs in there – such as Chester, Hereford and York – so they will all be looking to try to do what we want to do. There is no way this will be easy.
"I haven't played in this division for a while (since 2010) but I am no stranger to non-league football. I know it's a physical league. It will be a challenge for us all but it's one I am looking forward to."