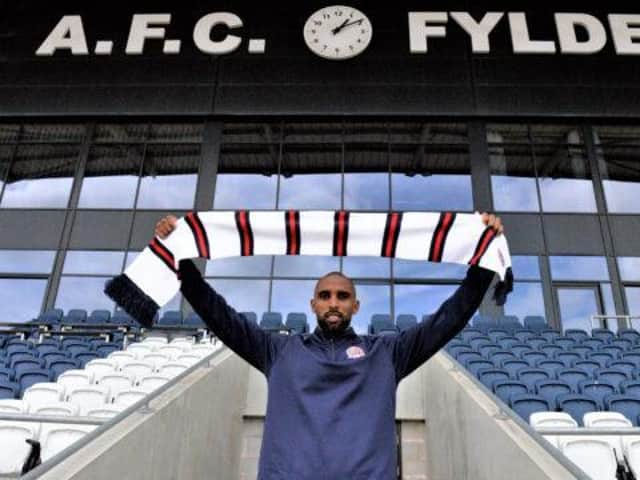 New signing Nathan Pond played against Fylde in last year's National League play-off final Picture: AFC FYLDE
The 35-year-old centre-back holds Fleetwood's appearances record and won six promotions over 15 years at Highbury as Town climbed from the North West Counties League to League One of the EFL.
The Monserrat international made 163 League appearances for Town before spending the past two seasons at Salford City.
Pond made 72 appearances for the Ammies, adding yet another promotion to his CV by playing in the National League play-off final win over Fylde in May last year. He played nine times for Salford in League Two last season.
Pond told the AFC Fylde website: "I had a lot of interest from the club when they found out I was available. Even as far back as January, when I was still at Salford, they showed interest in me.
"I was out of contract this summer and Jim Bentley (Fylde manager) got in contact, and what he told me suited me. The ambition of the club and the desire for promotion was great and that's what I want to do.
"I am really pleased to be here now and get it all signed. I played against some of the players in the play-off final, so I know the quality that is in this squad. Now it's about all of us getting back in together and looking to get promoted."
Fylde have been relegated to the second tier of non-league, in which Pond spent two seasons with Fleetwood (2008-10)
Bentley said of the Coasters' first summer signing: "Nathan is a very good player who has been there, seen it, done it and has numerous promotions on his CV, which is exactly what we're looking to do here at AFC Fylde.
"He is a strong character with great experience and lives locally, which always helps.
"He's a good professional with high standards and I am sure he will rub off on others around him. We are really looking forward to working with him."