Brett Ormerod column: Blackpool skipper's midweek heroics could prove crucial
Seasons can turn on certain things and Chris Maxwell's late penalty save against Accrington Stanley in midweek could be one of those.
Friday, 16th April 2021, 12:30 pm
Before Colby Bishop took the penalty, you could tell the body language of the Blackpool players had changed.
They were all thinking, because it came so late on, it would be the winner and they'd lose their unbeaten run.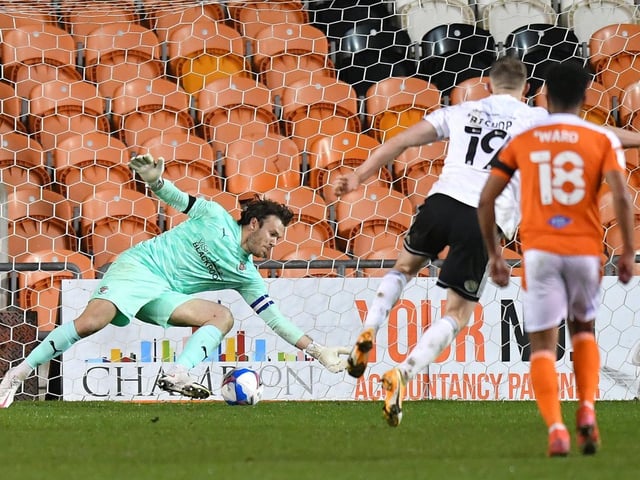 Blackpool keeper Chris Maxwell makes his midweek penalty save
I thought it was a very good game, I enjoyed it. It was a good game to watch tactically.
Accrington, coming off the back of a 5-1 defeat, changed their system and played defensively to try and stifle Blackpool.
For large parts of the game it worked and Blackpool had to work extremely hard to get their chances.
That's not saying Blackpool played poorly, they didn't, but it was a fascinating contest.
Accrington could have even snatched it right at the end with the penalty, but it was a great save from Maxwell. He's done that a few times this season now, hasn't he?
I heard one or two people say it was straight at him but it wasn't.
It was powerful, it was underneath him, he dived and then had to readjust himself and showed the strength of his arm to keep hold of the ball.
It could have quite easily ricocheted off him and back to an Accrington player to get the rebound.
He gambled, didn't he? As a keeper you've got to guess the right way and he got it right but it was still hit with a lot of pace, so there was a lot of work still to do.
How often do you see the keeper get to the ball but it hits them and still goes in? Maxwell managed to keep it out, so it was a great save.
I'll be honest, I didn't see the incident leading up to the penalty so I can't give a judgement if it was a spot-kick or not.
Where I was sat doing the commentary, I had a stanchion in my way so I didn't get a clear view of it.
I didn't even know if it was a penalty or what the referee had given so the commentator, Ian Chisnall, had to tell me.
From what I've heard, it might have been a bit of a soft one but Maxwell's saved it anyway, so thankfully it didn't matter.
As I say though, it was a good game. If Sullay Kaikai had taken his early chance it could have been a lot different because Accrington would have had to come out – but it was a very good game of football, even though it finished 0-0.
Blackpool might have to get used to teams coming to Bloomfield Road and sitting deep to frustrate them.
When fans come back there might be a lot of teams that adopt that style because Blackpool are very strong at home and they dominate the ball.
It's an obstacle they might have to overcome in future but they still created some good chances on Tuesday night.
Luke Garbutt hit the post and Kaikai was denied by the keeper on two occasions.
For all of Accrington's tremendous hard work to get a draw, Blackpool still managed to carve out some decent opportunities.
The draw means Blackpool are unbeaten in 15, which is a fantastic run.
Every game between now and the end of the season is important but tomorrow's game against Sunderland really is a big one.
Blackpool have got to play them twice in quick succession, so it will be interesting to see how they get on.
Sunderland have lost their last two, so they aren't invincible.
They've probably got the strongest squad in the league, the top goalscorer in Charlie Wyke, arguably the best player in the division in Aiden McGeady and a good manager in Lee Johnson.
McGeady shouldn't really be playing at this level, he's a Championship player with the quality he's got.
It's going to be a tough game but Sunderland, coming off the back of two bad results, will be looking at Blackpool and worrying more about them rather than vice versa.
Neil Critchley picks his team depending on the opposition, it's often horses for courses.
Elliot Embleton isn't available but it gives someone else an opportunity to go into that role and impress.
Thanks for reading. If you value what we do and are able to support us, a digital subscription is just £1 per month for the first two months. Try us today by clicking here