Severe flooding affects homes on Fylde Coast as residents in Thornton Cleveleys report power cuts and being unable to go to work
Residents are trapped in their homes after the heavy rain this weekend has caused severe flooding on their roads.
Watch more of our videos on Shots! 
and live on Freeview channel 276
Visit Shots! now
People living in the Thornton area say they are unable to get to work, and 'having to dry their garages out' after a weekend of heavy rainfall battered the Fylde Coast.
A healthcare worker, who lives on Lawsons Road, said she's 'missed a second day of work' due to the flooding outside her home.
Sue Tamasa told Blackpool Gazette: "I work in a nursing home 12 hour shifts so I have lost a large amount of money plus the home is now short staffed."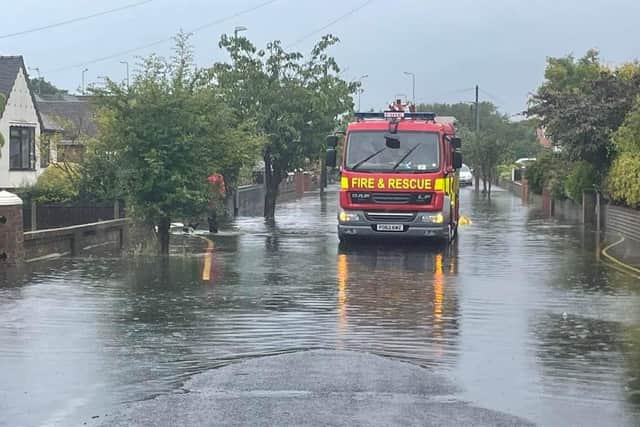 She is especially worried as more rain is forecast later this week.
Carers can't gain access to elderly residents
"We have a lot of elderly residents that live on this estate, and cannot exit nor can they carer gain access. It's a joke as it keeps happening," added Sue. She also told the Gazette that she lost a car when it previously flooded in 2017.
Kitchen was flooded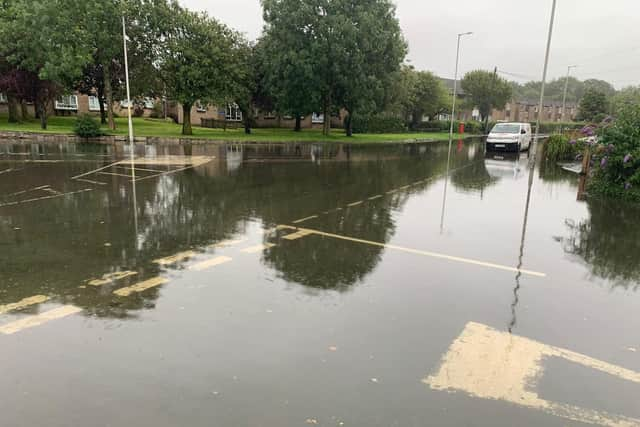 A resident on Calder Avenue said most of her neighbours are 'out and about drying their garages out'.
She reported that one neighbour 'lost all power', and an elderly neighbour had to go to a hotel as her kitchen and conservatory was flooded.
Wishing to remain anonymous, she told the Gazette: "Luckily my bungalow is slightly higher than everyone else affected so it was only my gardens (front & rear) that got flooded. The surface water flood on Calder Ave is now receding from homes & gardens but part of the road is still under water."
Fire brigade were 'fighting a losing battle' with the floods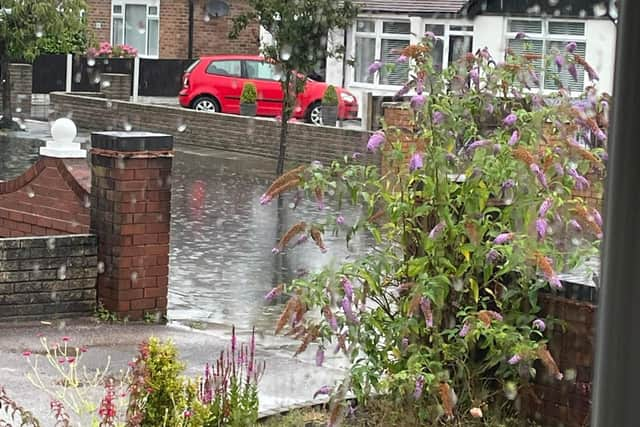 Residents of Calder Avenue said yesterday the road was closed off as Lancashire Fire Brigade spent hours trying to pump the water away.
" After a valiant effort they were stood down as they were fighting a losing battle."
Local MP is 'deeply concerned'
Paul Maynard, MP, posted on Facebook: "Deeply concerned about flooding today in Thornton. Grateful for prompt responses from both Fire Brigade and Wyre in safeguarding houses on Calder Avenue and trying to fix problem. Speaking with residents there this morning, i know how distressing this is given it also happened in 2017. Primary cause has been the failure of a pumping station (due to loss of power) by the sports centre which is still being fixed as I write. Given rain is steady rather than torrential in bursts, the network ought to be able to cope, and Stanah Pumping Station is operational, but it will take time for water to subside. The flooded car park at the Sandyforth Arms indicates the depth of the problem. My thanks to Thornton Flood Action Group for coming out as well and monitoring the situation - please check their Facebook page for *authoritative* information. Today underlines once more the need for regular maintenance by Environment Agency, United Utilities and Wyre of the differing bits of infrastructure."
Lancashire County Council, LFRS and Unitied Utilities have been approached for comment.