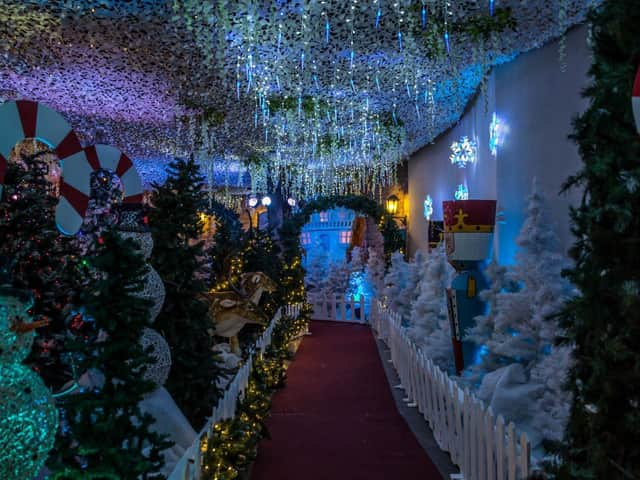 The grotto at Blackpool Pleasure Beach is set to open from December 5
The attraction is again pulling back the curtain on its popular Christmas Grotto event, set to open on December 5 and run every Saturday and Sunday until December 20, between 10.30am and 5pm.
Meanwhile, the Gatsby Dinner Show is poised to take place from December 4 to 19 in the Paradise Room.
At the grotto, visitors will be greeted by Mrs Claus and guided through Blackpool Pleasure Beach's very own North Pole, before meeting the star of the show – Father Christmas. The elves will ensure all children have a present to put under the tree this winter season.
The Gatsby Dinner event will feature performances as well as a three-course meal
To make the experience even more magical, Blackpool Pleasure Beach is offering little ones the chance to choose their favourite bear at the Create Your Own Bear Workshop.
The Gatsby Dinner Show promises glitz, glamour and fun for all the family, featuring a cast of incredibly talented performers, all delivered in a Covid-secure way.
Diners will be served a seasonal three-course meal, with the final dish a spectacular pudding, set alight to add even more sparkle to the evening.
Pleasure Beach managing director Amanda Thompson said: "We love celebrating Christmas at Blackpool Pleasure Beach and always pride ourselves on delivering special seasonal events. .
"It has been a very strange time for us all and we can't wait to sprinkle some festive magic.
"We can't wait to welcome families to our grotto and we're thrilled to be going ahead with our Christmas Dinner Show this year, even if it is a little different than usual, we promise guests will be able to enjoy a spectacular festive evening. Our team have worked incredibly hard to ensure the venue is safe and secure, with all of the correct procedures in place so we're good to go."
In line with the current government COVID-19 regulations, Blackpool Pleasure Beach asks that visitors wear a face covering and ensure social distancing is in place.
More information at www.blackpoolpleasurebeach.com/whats-on/ or call 0871 222 2121