Mum of teenage suicide victim urges men to talk about mental health this International Mens Day after social media threats tipped son over the edge
A bereaved mother has a stark message about the dangers of social media, and wants to encourage men to talk about mental health, seven years after her son James Doherty's suicide.
Watch more of our videos on Shots! 
and live on Freeview channel 276
Visit Shots! now
Joanne's son had been a bright, popular teenager and a gifted athlete when he took his own life, in August 2016.
The Hodgson Academy pupil had recently passed all his GCSE's and seemed to be enjoying his job as a lifeguard – but he had a problem that he felt unable to share.
Now, seven years on, Joanne Hargreaves-Doherty, of Cleveleys wants to make sure that nobody feels they have to suffer in silence.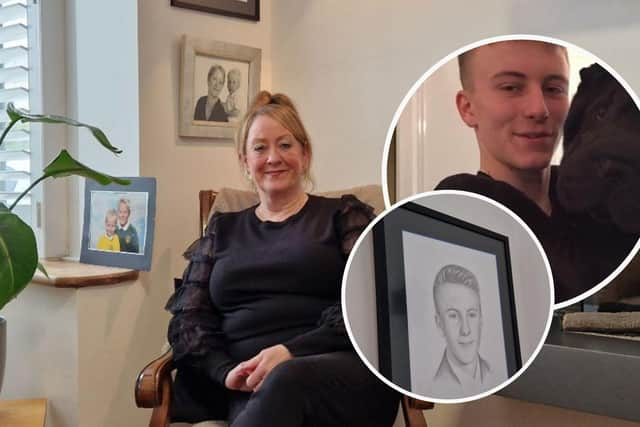 The tree where 16-year-old James had tragically hung himself, was covered with floral tributes from classmates and people who were 'deeply shocked and saddened' by his death.
But it was only when police checked his gaming and social media accounts that they learned what had tipped James over the edge.
He owed someone £400 and had received a threatening message on his X-Box account, two days before his death.
It was an eye-opener for Joanne, who had thought she had a good idea what her children were upto.
She told Blackpool Gazette: "'I didn't see it coming. I had no idea what he was getting into...You don't know what conversations they're having [on social media], or the language they're using on there. I believe that's what tipped him over the edge."
Joanne thinks that the problems are even worse for young people today, as they are increasingly on TikTok and other apps that parents may not understand.
"Social media has a very high part to play in suicide. You can't always find your children or know what they're upto, they can use a different name."
She added that if she'd known about his problems, they could have easily sat down for a conversation and worked out a solution.
"There is always a way out. Nothing is worth ending your life over, even if it feels like a big problem at the time."
Joanne has since set up a suicide bereavement support group, and a charity called Doherty's Destiny.
They now have seven 'talking benches' around the Fylde Coast – aimed at encouraging people to talk about their problems.
The latest bench is in memory of Glenn Southern, and was unveiled at Lytham Crematorium earlier this week.
The concept was inspired by the Ricky Gervais series, Afterlife, which is centred around a bench.
Where can I get help if I am feeling suicidal?
According to Samaritans, more than 6,000 people across the UK and Republic of Ireland take their own lives each year and suicide is more likely among men than women - and in particular men in their 40s and 50s from a lower socio-economic group.
International Men's Day is this Sunday (Nov 19). It is an annual event designed to make a positive difference to the wellbeing and lives of men and boys around the world; raise awareness of the support services available to them; and to promoting a positive conversation about men, manhood and masculinity.
Joanne urges men not to 'bury their heads in the sand' – but instead to reach out to someone.
"It can be a friend or family member, or call the Samaritans or Mind. Talking is the key factor to prevent anything from happening."
Anyone struggling with their mental health can contact Samaritans for free on 116 123 or via email at [email protected].