Lytham's Lowther Pavilion to stage two festivals over August Bank Holiday – here's what you need to know
Lytham's Lowther Pavilion is set for one of its biggest ever weekends, as it stages not one but two festivals over the August Bank Holiday.
Watch more of our videos on Shots! 
and live on Freeview channel 276
Visit Shots! now
The Lytham International Film Festival and the Lytham World Food & Drink Festival are both taking place at the West Beach venue in the Pavilion and adjoining Gardens respectively, the film festival from Friday to Sunday and the Food Festival from Saturday to Monday.
Along with a host of tasty treats in stalls throughout the Gardens, Lowther's fourth Food and Drink Festival includes outdoor performances of Alice in Wonderland and musicians in the park.
There is also a Lowther's Garden Activity Pack designed to help over-fives to explore the historic garden, with adventures through puzzles, a flower hunt and treasure trail with Miss Foxy, the resident fox.
Other features include a Creative Crafts Association Craft Fair and small fairground rides for all of the family.
Meanwhile, the Film Festival features a choice of more than 90 films from across the globe, including a chilling short story called Return to Sender, about a woman involved in a delivery scam that grows increasingly strange, produced by Oscar-winning actor Jamie Lee Curtis.
There is also Unconquered, which is written, directed and produced by 1980s music star John Parr, which follows the true story of two elite soldiers injured in the line of duty.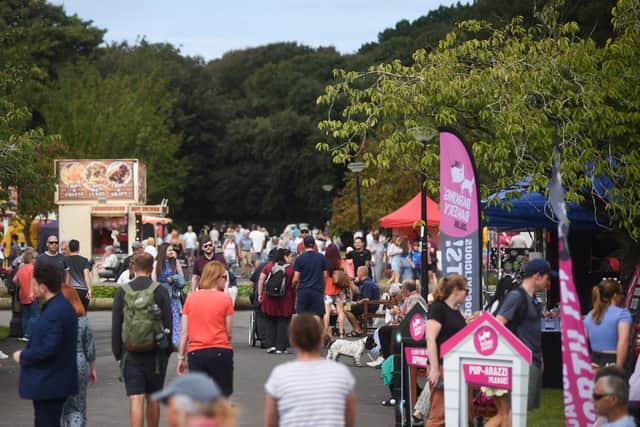 Meanwhile, from closer to home is Short Stay, Long Stay, written and directed by a filmmaker from Blackpool about two men working in rival car parks who have one week to say goodbye when they learn that their jobs are ending.
Films are being screened from 11am to 10.30pm on Friday and Saturday and 1.30pm to 9.30pm on Sunday and filmmaker and festival director Ed Greenberg said audiences can expect a strong programme offering a wealth of unique voices and stories striving to rise above the noise of the mainstream.
"This year's filmmakers have all poured their hearts and souls into their craft and produced incredible works that deserves to be seen and celebrated," said Ed.
Lowther chief executive and artistic director Tim Lince is confident the festivals 'double header' will offer a weekend to remember.
He said: "Following the pandemic shutdown, Lowther wanted to give something back to the community and provide the opportunity to celebrate people coming together in some way. "Since launching our successful Ice cream, Easter and Food and drink festivals we have seen increasing numbers of families visit the beautiful gardens each year.
"Adding the film festival this year gives a new opportunity for people to join in the celebrations and takes Lowther onto a more international field with participants coming from Los Angeles, Hungary and Hong Kong.
"The event is all part of Lowther's reimagining and support of both local and international art forms. This summer has seen us launch new initiatives such as the community tent and we hope to finish the summer with something for everyone in these festivals."
The food and drink festival is open from 11am to 5pm on all three days and is free to attend, while details of tickets and full programme for Lytham International Film Festival are at www.lowtherpavilion.co.uk