Owner of the The Chilton Hotel in Blackpool is attacked by young intruders
A hotel owner in Blackpool says he wants to sell up after being attacked in one of his own properties last week.
Watch more of our videos on Shots! 
and live on Freeview channel 276
Visit Shots! now
46-year-old Deepak Mehta, who owns and runs The Chilton Hotel on Lytham Road, was assaulted by a group of young men who had entered the property in the middle of the night on Wednesday, May 31.
Deepak and his wife were asleep in the hotel when they were woken up by loud noises at around midnight, two hours after the reception closed. Finding nothing when he checked the occupied rooms, Deepak then inspected the CCTV and saw four men, aged between 18-20, enter through the front door, which had accidentally been left open.
Deepak, who has lived in Blackpool since 2005 but is originally from India, said: "They tried to go to the bar first, but it was locked. They tried to push the door but couldn't open it, so they went upstairs. They went to room number 25 because we were cleaning the room earlier so we had left it open deliberately, and they started having a little party."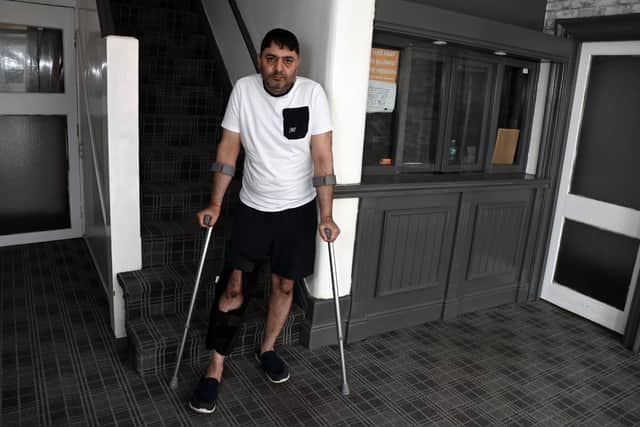 "Half-asleep", Deepak went upstairs to ask the group who they were. One of the young men claimed their father had booked them a room at the hotel, but when Deepak asked to see the confirmation email, the incident turned violent.
Deepak said: "He brings his phone closer to me and then punches me in the face. Luckily I had swerved to the side but he did hit me, then another lad jumped on me, punched me, so I hit them back. Then we're all fighting, and we head towards downstairs and they push me down the stairs – I broke a bone on my leg, I have a fracture.
"After they pushed me down the stairs, they started kicking me on the floor. I tried to defend myself, and when I used both legs to try and push them off, I stood up but they were gone so then I rang 999."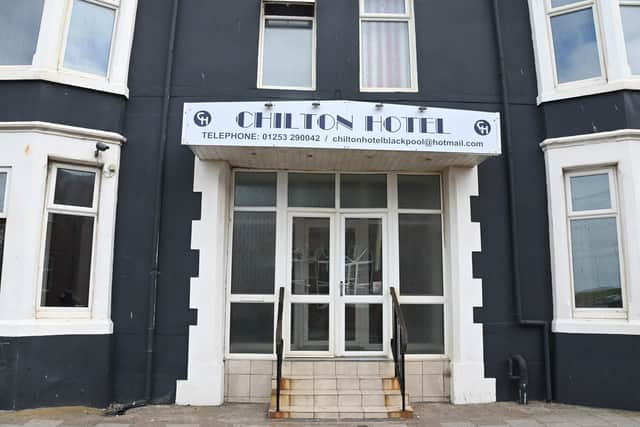 Lancashire Police confirmed the incident had been reported to them and they are currently investigating.
Deepak has been in the hospitality industry since the late 90s, when he moved to Dublin in 1995 and owned a restaurant. Now the owner of three hotels in Blackpool – the others being Arnies Hotel on the Promenade and the Corner View Hotel on Nelson Road which are ran by tenants– he believes the incident has put him off the industry for good.
Deepak explained: "We've owned hotels in Blackpool for 15 plus years and nothing's ever happened like this before. It's getting worse and worse, Blackpool's getting very rough, it's not a safe place to live. I'm selling the hotel honestly, I'm not doing hotels anymore, I don't want to put mine or my kids life in trouble.
"To have someone come through your door and threaten you, I don't want that. We're not the kind of people who go somewhere to make trouble, me and my wife have worked hard in Blackpool since 2005, we make the beds, clean people's dirty toilets, yes we make money but at the end of the day, we don't want people coming in and threatening us, or hitting us, we need somewhere safe."