Family of murdered Fleetwood man say their "grief, pain and loss is unbearable" as killer is sentenced to life in prison
A Fleetwood family have paid tribute to their 32-year-old son who was stabbed to death last year, but say their "grief, pain and loss is unbearable".
Thursday, 22nd April 2021, 11:48 am
Updated
Thursday, 22nd April 2021, 2:14 pm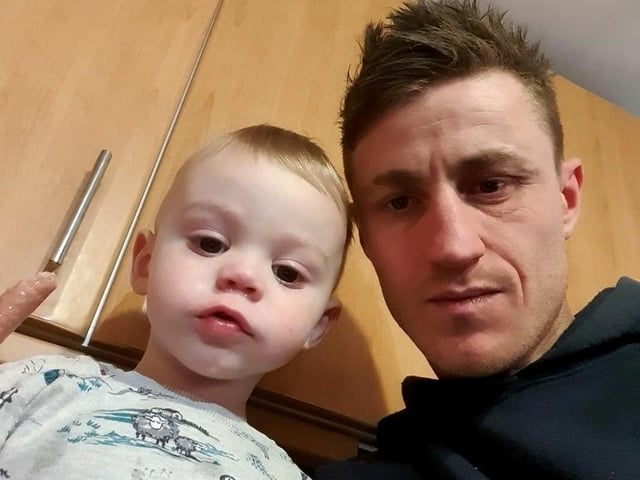 Danny Wise with his son Harry
Proud dad-of-one Danny Wise was killed by Rhys Austin, 23, who attacked him near his place of work at a building site in Fleetwood on June 24, 2020.
Danny was stabbed in the neck and later died at Blackpool Victoria Hospital, leaving his heartbroken family to grieve the loss of their much-loved son, father and brother.
Earlier this week, his killer Austin, 23, of Broadwater Avenue, Fleetwood, was sentenced to life in prison and must serve a minimum of 23 years.
Yesterday (Wednesday, April 21), Danny's mum Tracey, 53, shared her story with the Gazette and revealed how her family has struggled to come to terms with his murder.
"It gets harder every day," said Tracey. "It feels like it all happened yesterday. I feel guilty that I'm still here and he's not."
Today, Tracey and her family have issued a further tribute to Danny - "a fun-loving lad with a heart of gold".
Danny, right, in his youth with little brother Jamie
His family said: "Danny was in the prime of his life and that life was stolen from him, for no reason whatsoever. Just taken, ruining many, many lives alongside Danny's, purely through the actions of one man.
"Danny was such a fun-loving lad with a heart of gold. He made whatever struggles bearable and every person he came into contact with he made smile. He had an infectious smile and a sense of humour like no other.
"Danny's death is a huge, huge loss, to all of our family. The grief, the torment, the utter loss caused by this one insignificant person, is unbearable and each day the pain intensifies. He has no understanding of what he has done.
"All Danny ever wanted was to have children of his own, a son in particular. We are so glad he lived long enough to realise the loving bond he craved and formed a fantastic relationship with his little boy.
"Our Danny's murder has been felt among local people who really miss him. I have found a lot of comfort from reading the messages on social media, many showing love and respect and sharing their condolences for Danny."
Family thanks police, medics, friends and colleagues
The family added: "We would like to say a special thanks to Det Ch Insp Gareth Willis and his team, the police officers who were first to the scene and who comforted Danny, as well as all the residents who have assisted the police with their investigation in utilising their CCTV.
"We also want to thank the paramedics and hospital staff for their medical attention to Danny. A number of tradesmen, who came to Danny's aid and attended several court hearings, including his close friends Scott and Chris Cummings, must also be thanked."