Remembering Danny Wise: Devoted dad, big brother, craftsman, Man U supporter and amateur rap artist
From a 16-year-old grafting six days a week in all weathers for just £100 pay to a proud father with big plans of starting his own business overseas - the mum of murder victim Danny Wise looks back on a life cut tragically short.
Tuesday, 20th April 2021, 3:45 pm
Updated
Wednesday, 21st April 2021, 3:06 pm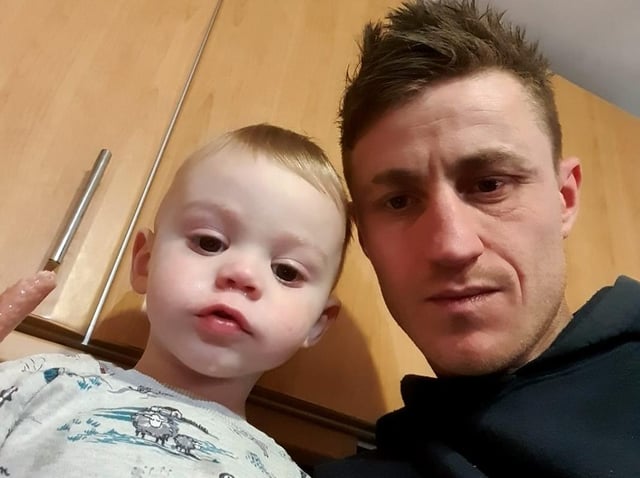 Danny Wise with his two-year-old son Harry
The summer of 2020 was supposed to be the prime of Danny Wise's life.
The 32-year-old joiner, from Fleetwood, was looking forward to jetting off to sunny Cyprus where he and a friend planned to set up their own crafting company.
But his big dreams were cut short when he was stabbed in the neck by a jealous man in a rage fuelled by drink and drugs.
Rhys Austin, who was described by his own defence as 'a scrawny, sad specimen' in court, tricked Danny, 32, into thinking he was unarmed by dropping a hammer and turning out his pockets as he challenged him to a fight in an alleyway near a building site on Mowbay Place, where he worked.
But when Danny approached him, he pulled out a hidden 14cm blade and stabbed him in the neck.
Austin was subdued by a number of building site staff who witnessed the 'cowardly' attack.
Danny staggered back into the street, where he collapsed. He was taken to Blackpool Victoria Hospital, where he died of his injury without ever regaining consciousness.
His mum Tracey, 53, said: "Danny worked hard as soon as he left school. He went on his moped six days a week in all weathers to his apprenticeship in Lytham, for just £100 a week. Then he worked in White City in London. He'd got to the point where he'd just had children and wanted to focus on family life, and it was taken from him.
"Danny was in the prime of his life and that life was stolen for no reason whatsoever, ruining many, many lives in the process, due to the actions of one man."
Danny was a Manchester United fan, a tireless nicknamer, who liked to make up amateur rap verses about people he knew, including Tracey - but he was killed before she could ever hear it.
He leaves behind his mum, stepdad Pete, younger brothers Jamie and Callum, and - tragically - a three-year-old son, Harry.
Danny, right, in his youth with little brother Jamie
Tracey said: "All he ever wanted was to have a child of his own. I'm just so glad he lived long enough to form the fantastic relationship he had with his little boy. This short time was a delight to behold, it was such a mutual adoration - two peas in a pod.
"Danny's baby adored his dad - now he'll be left with no memories of him."
She added: "It gets harder every day. It feels like it all happened yesterday. I feel guilty that I'm still here and he's not.
"I can't believe it's been nearly a year, and I haven't seen him in all that time.
"I just expect him to come bouncing in.
"He had just got himself a VR headset, and a few days after he died a new game arrived that he never got to play. It made me so sad.
"As a family we've been up and down. I've had help from doctors, support workers, and the crisis team because I just didn't know how to cope with it any more.
"It's just so hard. Seeing things he'll never see any more. The seasons changing. When we buried him, everybody else was trimming the grass on their relatives' graves. Now it's coming up to summer again. It has been so long."
"A PREMEDITATED, WICKED, COWARDLY ATTACK"
Detective chief inspector Gareth Willis, of Lancashire police, said: "This was a crime driven by jealousy. Rhys Austin had grown suspicious after wrongly believing Danny Wise had an interest in his girlfriend.
"The pair exchanged messages on social media culminating in Austin visiting Danny's workplace looking for a confrontation. He was armed with a hammer and also a knife which he had hidden within his clothing.
"From evidence and eyewitness accounts Austin tried to give the impression he had no weapons as he discarded the hammer to the floor.
"This was a deliberate attempt to lure Mr Wise into the alleyway for a fight. Once there he quickly produced a knife from his clothing and launched a savage and fatal attack, stabbing him once in the neck.
"It was a premeditated, wicked, cowardly attack which Danny Wise was not expecting and very sadly he died a short time later.
"I want to take the opportunity to pay tribute to Danny's work colleagues who bravely rushed to his aid as they realised he had been stabbed. They disarmed Austin, restraining him on the floor until the police attended and arrested him. Their actions undoubtably saved Danny from receiving further injuries but sadly the stab wound proved fatal.
"Rhys Austin's actions were fuelled by jealous rage and it is clear to me he is a dangerous and violent individual. He and Danny had clearly fallen out over social media and exchanged abusive messages but it was him and him alone who decided to arm himself, attend Danny's place of work and carry out this cowardly attack."
Austin, 23, of Broadwater Avenue, Fleetwood, was sentenced to life in prison and must serve a minimum of 23 years.