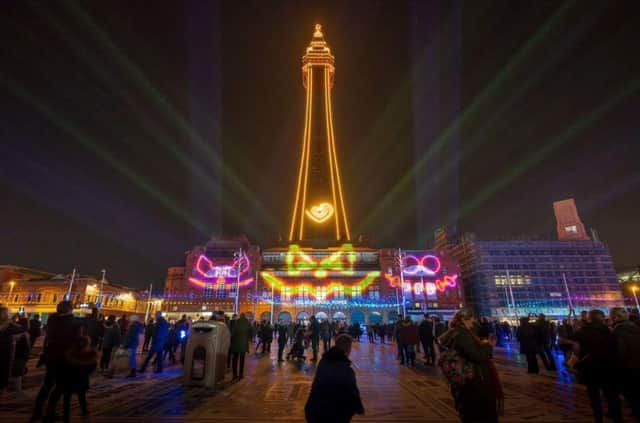 Blackpool reveals spectacular programme of family entertainment for October half-term
Blackpool has unveiled a dazzling programme of free family entertainment for the October half-term holidays.
Published 12th Oct 2023, 12:27 GMT
The resort is rolling out an unprecedented line-up of events which will start on Friday 20 October with the final display in the World Fireworks Championship Blackpool, along with the opening of the 9-day Lightpool Festival, which this year includes spectacular light installations from across the globe.
With all of the tourist attractions open for business and the Illuminations shining nightly, Blackpool has set its stall out to deliver an unrivalled selection of half-term holiday fun.
And it doesn't stop there. During October, the resort will prove that it can do dark just as well as light with a hair-raising programme of Halloween activities for all the family.
Cllr Lynn Williams, Leader of Blackpool Council, said: "October half-term is a time when Blackpool truly comes into its own. At a time when lots of places are battening down the hatches for winter, we have what is probably the most exciting programme of free entertainment anywhere in the country.
"I would encourage everyone and particularly families to come along and experience this year's Lightpool Festival. Arts Council funding has enabled us to put together a programme this year which is truly world-class. You do not want to miss it!"
Among the half-term highlights are:
World Fireworks Championship Blackpool
Watch the Blackpool night skies light up with another magnificent firework display set to music as Italy, the last of this year's championship contestants, look to outshine the previous displays from India and Switzerland. The display will start around 8.30pm on Friday 20 October at the Tower Festival Headland. Get there early – it's going to be a busy one!
Lightpool Festival
The award-winning Lightpool Festival returns for October half-term with an amazing free-to-see programme of light installations, 3D projection shows, an art trail, and stunning live performances.
The festival, which will run from October 20-28, includes world premieres and installations never before seen in the UK, including artworks from Australia, France, the Netherlands and Spain.
The light installations include larger-than-life jellyfish along the Golden Mile, fireflies, a giant ball of wool made up of neon yarn, a cube made up of 448 glass jars each containing a miniature tableau, and an exclusive preview of designer Laurence Llewelyn-Bowen's first-ever digital installation.
And the iconic Blackpool Tower building will see an alien-like "invasion" with giant tentacles seemingly breaking through the ballroom roof!
The festival is delivered in collaboration with various sponsors and partners including Arts Council England.
Blackpool Illuminations
This year's display includes three exciting new installations, one by internationally-renowned artist Dr Chila Kumari Singh Burman, MBE, another by Canadian-born Bruce Alfred, who specialises in Native American art, and a new version of Spitfire Island which has been reimagined by Laurence Llewelyn-Bowen.
And watch out for the ultimate selfie opportunities on the Tower Festival Headland with a new Hollywood-inspired Blackpool sign that spans almost nine metres, as well as the return of Spiro, an immersive, walk-through tunnel of light.
All have been built by the Illuminations' in-house team based at the Lightworks manufacturing facility in Blackpool with the support of the Government's Towns Fund.
This year's Blackpool Illuminations are running nightly until January 1, 2024. Find out here what's new, the switch-on times for this year's display, plus more illuminating information here.
Halloween
We've got ghost trains, ghost walks, ghost trams, and a Haunted Hotel tableau in the Blackpool Illuminations - in fact, more ghosts than you can shake a stick of rock at.
Watch out for a stack of electrifying events at various attractions, including SEA LIFE Blackpool, The Blackpool Dungeon, the Peter Rabbit Explore & Play attraction, and Blackpool Pleasure Beach which, from October 27-31, will host the return of Circus of Horrors in the Globe Theatre as well as offering park guests a chance to experience blood-curdling Journey To Hell Freak Nights.
Blackpool Grand Theatre will also be bringing, direct from the West End, the chilling story of The Woman In Black, and Funny Girls will give its own inimitable take on the spookiest season of the year.
From tame activities for your tiny terrors to grown-up scares to make any brave soul tremble, take a look at the full line-up of what's on this Halloween here.
Attractions Galore
Here in Blackpool we are proud to boast the biggest portfolio of branded attractions outside London.
Take your pick from white-knuckle thrills at Blackpool Pleasure Beach; splashes of indoor fun at Sandcastle Waterpark; discover the underwater world at SEA LIFE Blackpool; experience the illuminated and heritage trams; take a walk on the wild side at Blackpool Zoo; and try your luck at the UK's largest indoor amusement arcade, Coral Island.
That's not all! Explore three piers; brave the depths of The Blackpool Tower Dungeon; journey to the top of The Blackpool Tower; and enjoy the excitement of The Blackpool Tower Ballroom & Circus, and Madame Tussauds with its Marvel Super-Heroes and Strictly Come Dancing interactive exhibitions. And look out for one of Blackpool's newest attractions, The Gruffalo and Friends Clubhouse.
World-Class Shows
Watch the extraordinary Peter Pan: The Arena Spectacular at the Blackpool Opera House in the Winter Gardens from October 26-29 with a 50-strong cast of performers, led by pop icon, Boy George. Or from October 17-21, check out the remarkable Real & Imagined History of The Elephant Man at Blackpool Grand Theatre, or one of the many top-class shows at Viva!
Find full show listings in Blackpool here.
The Great Outdoors
October is one of the most colourful months to explore the open spaces Blackpool has to offer. On milder days, the invigorating sea air is the perfect ingredient for a relaxing stroll down the six miles of promenade.
Alternatively, the lush 82-acre landscape at Stanley Park, voted England's best park in 2022, and now officially designated as a "National Treasure", dramatically turns into an abundance of rich red and yellow hues with pathways blanketed in crunchy leaves, making way for endless photo opportunities.
Accommodation To Suit All Pockets
Whether you're looking for a quick last-minute getaway, a half-term adventure or a short, but action-packed break, our businesses can't wait to welcome you for your autumn staycation. Many of our accommodation partners are still taking bookings for half-term. From cosy B&Bs, holiday parks, national names to self-catering options, there's something for everyone.
Find your accommodation here.