Beetlejuice and Batman filmmaker Tim Burton visits Blackpool Pleasure Beach and rides the Big One and Journey to Hell
Hollywood filmmaker Tim Burton paid a surprise visit to Blackpool Pleaure Beach yesterday (Thursday, October 5).
Watch more of our videos on Shots! 
and live on Freeview channel 276
Visit Shots! now
The movie director and Pleasure Beach 'superfan' – known for Beetlejuice, Edward Scissorhands, Batman and Netflix series Wednedsay – was given a sneak preview of the park's Halloween-themed "Journey to Hell."
Known for his gothic and macabre film-making style, Tim was thrilled to explore the park's Twisted Tunnels, which are eerily decorated for the Journey to Hell Freak Nights, opening Friday, October 13.
He was treated to a walk through the infamous Ghost Train, the first ghost train in the world, and spent time taking pictures and videos with his team.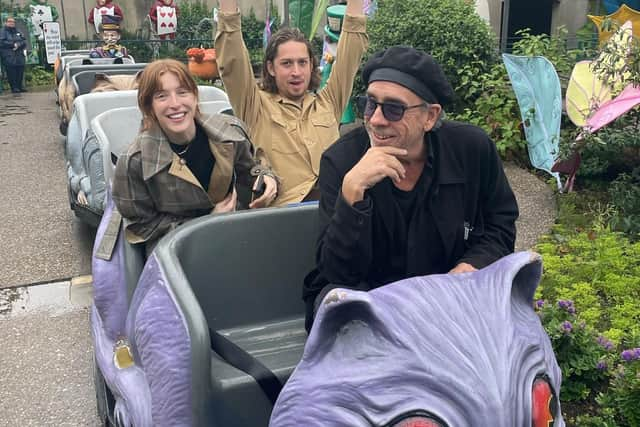 The Beetlejuice director, who was born in California but now lives in the UK, also said he'd love to buy the ghoulish bench outside the ghost train and take it back home to his mansion in Oxfordshire.
However, it was the River Caves, a dark ride that first opened in 1905, which captured his attention on this latest visit.
The director said the ride was his favourite part of the day – and compared it to seeing "that one piece of art that just captivates you".
Tim, who directed the 2010 film version of Alice in Wonderland, also couldn't resist a journey on the ride of the same name.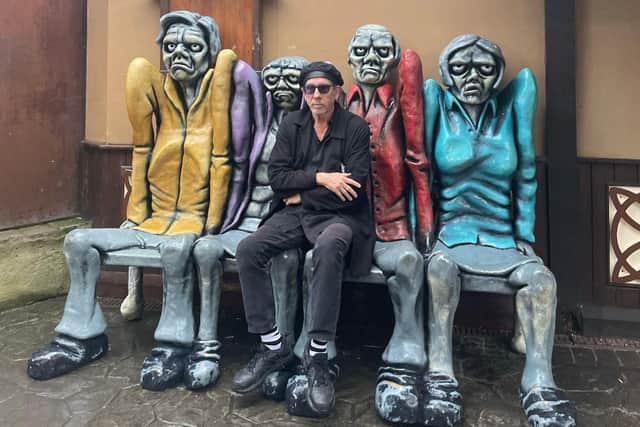 He also enjoyed the the Big One, the Steeplechase ride, and was spotted eating lunch at the park's Big Pizza Kitchen.
CEO of Blackpool Pleasure Beach, Amanda Thompson OBE, said: "We know Tim is a huge fan of Blackpool Pleasure Beach having visited us quite a few times already, and it's always so wonderful to welcome him back.
"Tim is known for drawing on gothic and horror influences so we couldn't resist the opportunity to invite him for a behind-the-scenes tour of Journey To Hell, and get the seal of approval from the master of macabre himself.
"He actually suggested that we use the River Caves as part of Journey to Hell – and that's exactly what we've done."
Why was Tim Burton in Blackpool this week?
On Thursday (October 5), Burton was visiting Manchester on business but insisted on making the 50-mile trip to Blackpool to visit the Pleasure Beach.
And some fans couldn't help but wonder if he was using this unexpected visit for inspiration for his next film, Beetlejuice 2, due for release in September 2024.
It's certainly possible. It's no secret that the Hollywood director is a huge fan of Blackpool, having featured both the town and the Pleasure Beach in a number of his creative projects.
He famously filmed the climactic final scenes for his 2016 young adult fantasy Miss Peregrine's Home for Peculiar Children on the seafront and switched on the Illuminations in 2015.
On his last visit, he told Granada Reports: "I may live here someday. Who knows. These old hotels that look abandoned… they look pretty good to me!"
Filmmaker 'inspired' by Blackpool and its Pleasure Beach
Andy Hygate, Director of Operations at the Pleasure Beach, also teased that the Pleasure Beach might have provided the filmmaker with inspiration for his next film project.
He said: "Tim was fascinated by Blackpool Pleasure Beach's rich history, from being home to the first Ghost Train in the world to the Big Dipper recently celebrating its 100th birthday – and learning that his favourite ride, The River Caves, is more than 110 years old.
"Our park has lots of traits that are synonymous with Tim's unique aesthetic and he spent a lot of time taking photographs and videos of our attractions and around the park.
"It wouldn't be surprising if he were to use them for inspiration in some way – watch this space!"
Journey to Hell gets Tim Burton's stamp of approval
Blackpool Pleasure Beach's Journey to Hell event – now with the Tim Burton seal of approval – is taking place on selected dates between October 13 and 31st (Halloween).
The terrifying, experience led event will feature live actors through eight themed areas of the amusement park.
The event will also give guests the opportunity to experience their favourite rides with a difference, including Dark ICON and CaroLoco Dodgems, as well as the option to add Pasaje Del Terror to their Journey to Hell Experience.
Tickets are priced at £39.50 for a standard ticket and £51.50 with Pasaje Del Terror. You can purchase tickets as an addition to your eTicket.
Tickets can be purchased via the link: https://bookings.blackpoolpleasurebeach.com/shows/date/journey-to-hell.