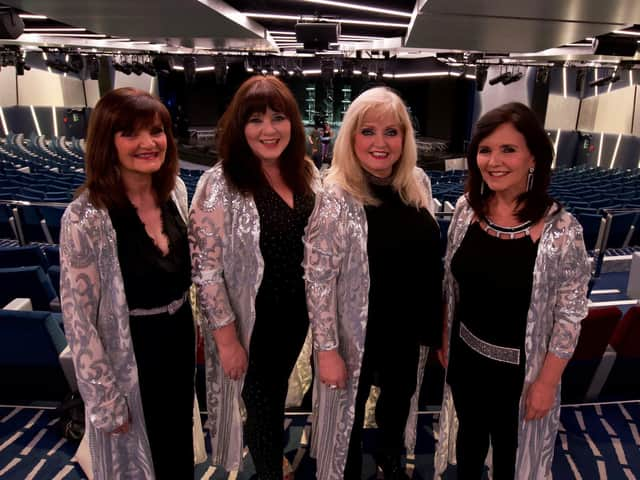 The Nolan sisters reunited on stage for their 2020 show 'Nolans Go Cruising.'
And after four decades in music the Nolans have been wowed by the success of their new compilation album.
Out now, the three part CD collection The Nolans Gold celebrates the best of 40 years of songs for the Lancashire pop sisters.
Linda is in recovery at home in Blackpool after being diagnosed with liver cancer earlier this year at the same time sister Anne was undergoing treatment for breast cancer.
She said it was a 'joy' to be able to share their greatest hits with fans again.
She added the opportunity of the new album has given them all a boost during a 'very hard year.'
Both have spoken openly of the anxiety they have suffered as a result of their treatment amidst the chaos of the pandemic and said sharing their story has allowed them to support other cancer sufferers and 'give something back.'
Linda, 61, who completed her rounds of chemotherapy at Blackpool Victoria Hospital, last month said: "It's crazy in a way, they said three disc album and it was like wow that many songs? I'd forgotten just how many we've recorded.
The Nolans Gold album out now
"To see the artwork ,very 1980s it was hilarious, we look as miserable as sin, the perms, outfits - it brought it all back. But it was the time.
"I am so thrilled with it all and the response which has been absolutely amazing. But it really is a joy and so exciting for us. We don't take it for granted -it's another chance for us.There is life in the old birds yet.
"Showbusiness is such a fickle business but for us to know that these songs still get to be played, people still want to hear them, play them for their children, grandchildren and get up and have a dance around the room in their own homes. - well that's brilliant."
The album will be available for £5.99 in ASDA, Tesco, Morrison's, Sainsbury's and HMV.