Bring on the 'Mr Funshine' factor - classic Pleasure Beach logo is revived for 125th season celebrations
Visitors to the Pleasure Beach may have recognised a familiar face after returning to the attraction this week.
Wednesday, 14th April 2021, 3:45 pm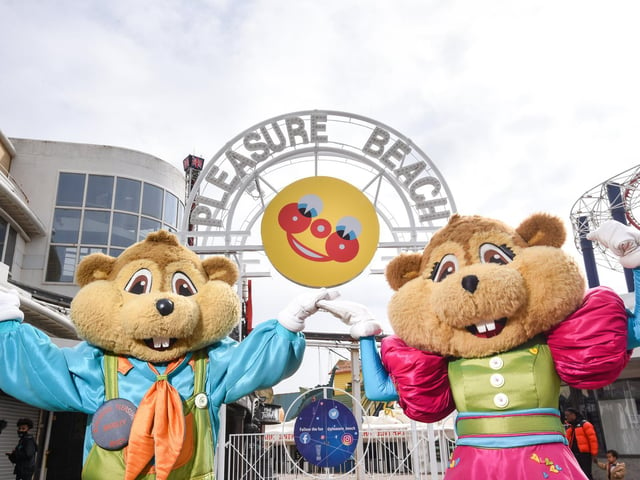 Mr Funshine is back for the 125th season of Blackpool Pleasure Beach. Pictured are Bradley and Bella Beaver.
Bosses have delved into the archives to resurrect the classic logo 'Mr Funshine' - which welcomed thrillseekers with a huge smile as they returned to the South Shore tourist trap for its milestone 125th season this week.
The branding - a feature at the park for over 70 years before being retired in 2005- was reinstalled in a proud and prominent position ahead of Monday's big opening.
The team said his reappearance has 'delighted' fans , a spokesperson added: "Mr Funshine, whose heritage dates back to the 1930's has returned to the entrance archways of Blackpool Pleasure Beach as part of our 125th Anniversary.
"Visitors to the park on its opening day yesterday were delighted to see him back and in such a bold and prominent location."
And Pleasure Beach boss Amanda Thompson OBE tweeted to say the logo was at 'front of everything we do,' adding: 'He never went away he was always in our hearts and our minds.
Ahead of the park reopening, Amanda spioke to The Gazette of her anticipation for a historic year - and for the excitement of hearing the 'sounds of the music and the laughter around the park.'
Mr Funshine is back for the 125th season of Blackpool Pleasure Beach. Queues at the South Shore park
Superfan Jack Grace tweeted:'The atmosphere was electric! Its truly the place to come in 2021.
"Thank You to every single staff member today they were all so incredible! See you all at the weekend! ! You should be extremely proud."