Bosses at Blackpool Winter Gardens ready to throw doors wide open for a 'bumper summer' of entertainment
The Winter Gardens as a resort landmark has proven itself indispensable in its 143 year history.
Monday, 10th May 2021, 3:45 pm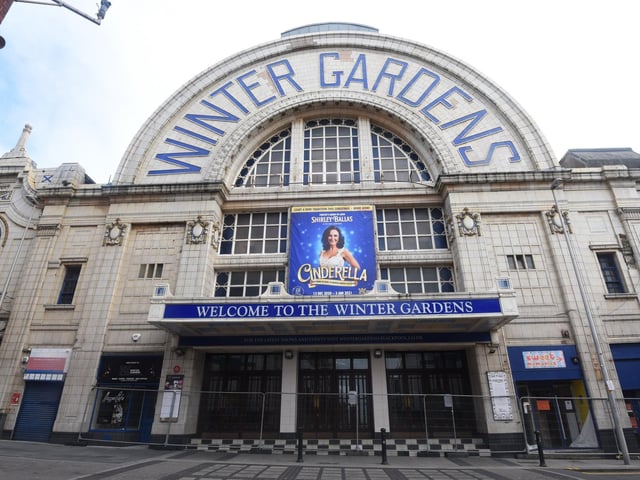 Blackpool Winter Gardens will reopen on May 17 introducing a programme of live daily entertainment
From entertaining crowds far and wide, to its requisition in both the First and Second World War in assisting troops and fast forward to 2021 where the venue has once again been centre-stage acting as a mass hub in the vaccination effort in the fight against the global pandemic.
Bosses behind the scenes of the historic venue, which has also welcomed some of the biggest stars of the day through its doors, are proud to have played their part.
But, one week today, it will be with a 'huge relief' managing director Michael Williams will be rewriting the script to get his team back to doing what they do best, entertain the public.
On May 17, the next milestone stop on the Government's roadmap out of Covid restrictions- which brought the entertainment industry to a standstill more than a year ago- the doors will be thrown open on the Church Street complex.
Visitors will be welcomed to enjoy the sights and sounds of daily lively entertainment once more and a host of other delights. Michael added the programme has been long in the making and it promises to be a 'bumper summer.'
He said: "It will be a huge relief to reopen the doors and welcome people back inside the Winter Gardens Blackpool, after a most challenging 12 months.
"Everyone at the venue has worked tirelessly to open at the earliest opportunity with a fantastic programme of live events.'
"I believe that Blackpool is set for a bumper summer and we are ready to play an integral role in welcoming visitors safely from across the UK and play our part in the recovery of tourism in Blackpool."
A socially-distanced operation will be carefully managed for the Opera House in the first few weeks. The inclusive programme begins on May 30 and includes family favourites the Twirlywoo's and Alice in Wonderland, whilst there will also be live comedy with Jongulers presenting Laugh Out Loud featuring Shaun Williamson, Bobby Davro, Billy Pearce.
Britain's Got Talent winner Jon Courtenay, who appeared on the Opera House stage for the Royal Variety Performance in Blackpool last October will kickstart his live tour in June from the venue.
Closed for more than 12-months, a Box Office counter service will reopen from 11am on Monday May 17, allowing customers to book in person.
The box office will be open daily from 11am – 3pm.
The venue has also introduced a 'Safe and Sound' campaign which will see the introduction of a wide range of new policies to ensure the safety of all visitors.
The new 'Safe and Sound' plans include the limiting of capacity with unoccupied seating between groups, temperature checks on arrival and contactless experiences amongst a range of new and enhanced policies. https://www.wintergardensblackpool.co.uk/safe-and-soundWhat is reopening at Winter Gardens?
The Mazzei Café will reopen on Monday 17 May from 11am - 3pm. Thereafter open daily excluding Monday & Fridays until 21 June when it will be open 7-days a week. Afternoon Tea is available to pre order now.
Counter service from the Church Street box office returns from Monday 17 May. Open 7-days from 11am until 3pm.
The Old Victoria Bar will reopen on Saturday 22 May from 11am featuring live entertainment throughout the day,. Thereafter open weekends until 21 June when it will be open 7-days a week.
Socially Distanced events
A wide range of Live socially distanced events return from 30 May including comedy, family shows and live music all adhering to all government guidelines including social distancing.