Service with a smile at St Annes as tennis bounces back like amazing coach Michael Cartmell
It's more than a month since we reported on St Annes Lawn Tennis and Squash Club taking its first tentative steps to reopen after lockdown – now head tennis coach Michael Cartmell is busier than ever, reporting that twice as many people as before are wanting sessions.
Tuesday, 23rd June 2020, 12:30 pm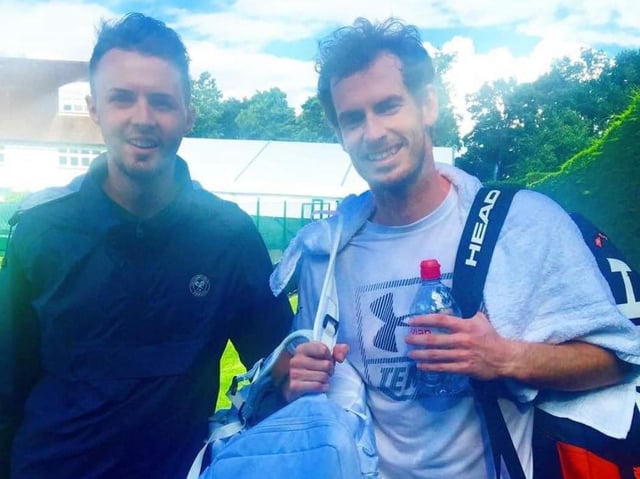 Michael Cartmell meets Andy Murray at Wimbledon
It's quite a turnaround for the Wyredale Road club, though coach Cartmell knows all about amazing powers of recovery.
It's 12 years since a freak accident playing football threatened to dash Michael's sporting dreams and nearly cost him his life.
A clash of heads competing for a high ball left the then 16-year-old with headaches he expected to shrug off.
It was only when his mother found him unconscious in his room that evening that Michael was rushed to hospital and underwent emergency surgery because of a brain haemorrhage resulting in a massive blood clot.
Michael spent four weeks in an induced coma at Manchester's Hope Hospital and remained in hospital for months.
He told The Gazette: "The doctors told my parents there was a 90 per cent chance I would die. They were sure I wouldn't walk again.
"If it wasn't for my mum finding me I wouldn't be here.
"You have to be really careful because your head is something everyone takes for granted.
"I had short-term memory loss and took a couple of years to get that back but I have made a full recovery."
That recovery saw him complete his A-levels as well as a sports development degree at Edge Hill University and going on to attain his Masters.
He rediscovered his love of sport and even laced up his football boots again, playing for the England Cerebral Palsy team and meeting Wayne Rooney and the rest of the senior England squad at St George's Park.
Michael became head coach at Garstang, where he now lives, shortly after graduation in 2017, and he also coaches at Goosnargh and Hambleton as well as St Annes, where he assumed the head coach's post in May last year.
He said of his role: "It was a slow process at first but people have got to trust you, like in any business.
"It's gone crazy since the courts reopened. I'm coaching about 70-75 hours a week, about twice as much as before lockdown.
"I think it has a lot to do with children having home-schooling and the parents wanting them to get out and do some exercise.
"There's definitely double the number of people there used to be at St Annes now. Of course the squash courts have been closed and people are wanting to play tennis."
It does mean Michael has had to put his own sporting ambitions to one side.
"I had to stop playing football because I'm too busy. I don't even have time to compete at tennis," he said.
It looks like Michael's only experience of Wimbledon will be as a court attendant, a job he held a few summers ago.
"I had to get the covers over the courts when it rained and they certainly kept me busy ... I think it was the wettest Wimbledon in history," he recalls.
Not as busy as this summer, though, and Michael is delighted he's fit and well enough to make the most of it.