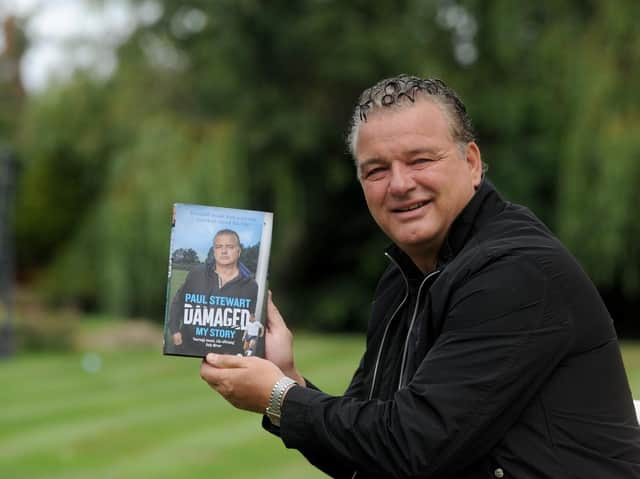 Paul Stewart with his autobiography Damaged in 2019
Those survivors include Paul Stewart, the former Blackpool and England midfielder who opened his heart in 2016 about four years of abuse perpetrated by coach/scout Frank Roper, who died in 2005.
An independent review published yesterday concluded that hundreds of children's lives were ruined by abuse over the course of three and a half decades as warning signs were missed by the football authorities out of "ignorance and naivety".
The FA was found to be guilty of an inexcusable "institutional failing" for delaying the implementation of child protection measures in the period between the autumn of 1995 and the spring of 2000.
In all, the report from Clive Sheldon QC said at least 240 suspects had been identified along with 692 survivors, but he believed the number of instances of abuse was actually far higher because a great deal of it has not been reported.
Stewart, a Blackpool resident now aged 56, also played for Manchester City, Tottenham Hotspur and Liverpool, having started his professional career with Blackpool from 1981-87.
A former Gazette columnist, Paul chronicled his experiences in his 2017 autobiography Damaged and now works for the English Football League to raise awareness around safeguarding.
He told the BBC: "I just hope that we learn from our mistakes and not, because of this report, think that by any means our children are safe now.
"Ultimately where these people preyed was grassroots football. I was one of those youngsters that had a dream and felt that the dream could be shattered by the individual who was abusing me.
"I would still be a little concerned when we look at the grassroots side of football and how these people may be able to operate at that level."
Addressing Blackpool and its association with Roper, the review found that scout Roper "exploited" his links at Blackpool to give himself credibility and authority that allowed him to manipulate young players.
While Roper was not formally employed by the club, he was regularly seen at Squires Gate and Bloomfield Road and was "given a level of access...that went significantly beyond that which an ordinary member of the public would enjoy", the report found.
Roper helped manage the Nova Juniors football team, a club that was initially based in Greater Manchester but relocated to Blackpool and played its 'home' games at Squires Gate.
Following a review, the club concluded that: "Roper was informally associated with the club
from 1971 until the late 1980s. There is no evidence that Roper was ever formally employed by the club.
"The club's investigations did not reveal any evidence that suggested the club was ever aware of any alleged child sex abuse either at the time or subsequently.
"The club has not found any record of receiving any complaints of sexual abuse by Roper, or indeed in respect of anyone else.
"The club was not aware of any such allegations made in the press prior to November 2016."
As part of the review, the club spoke to 16 people including former members of staff (coaching and administrative) as well as former youth players. There had been 27 accounts of abuse by Roper between 1965 and 1991.
The reviews found that Roper befriended Paul Stewart's parents and promised to "help make him a star".
Former Blackpool manager Sam Ellis, who was in charge at Bloomfield Road between 1982 and 1989, told the review that Roper "had the run of the place and that he could pop in anywhere".
Blackpool Football Club has acknowledged the conclusions of Clive Sheldon QC and his review team.
The club's statement reads: "First and foremost, the Club commends the bravery of those who came forward to share their experiences with Mr Sheldon and his team and the Club expresses its sincere sympathy to those who have suffered abuse at the hands of Frank Roper.
"The Club is pleased to note that the Review concluded that the Club has co-operated adequately with the investigation process. Both the Club's own procedures in respect of safeguarding and those in respect of football generally have progressed dramatically in the time since these events occurred.
"That being said, the Club continues to review and, as applicable, to improve its own child safeguarding procedures on an ongoing basis and it will now take time to consider the conclusions reached by the Review to determine how they feed into this process.
"The Club will also continue to cooperate with the Football Association and its stakeholders to ensure that every step is taken to ensure the safety, welfare and protection of every child."
FA chief executive Mark Bullingham said what had occurred within the game was a "gut-wrenching breach of trust" and he confirmed his organisation would adopt all 13 recommendations to improve safeguarding made by Sheldon in his report.
"It is clear (these children) were let down by the game, the authorities and society as a whole. We all failed to protect them," Bullingham said in an FA statement.
Sheldon concluded that the FA had "not done enough to keep children safe" in the period between 1995 and 2000. While he felt improvements were made thereafter, he highlighted key mistakes in the period that followed, such as the failure to monitor serial abuser Barry Bennell, sentenced to 31 years in prison in 2018. following his release from prison in 2003. Although he did not return to football, the FA had "allowed children to be put at potential risk" by not monitoring him. Bennell was not suspended by the FA until 2011.
Thanks for reading. If you value what we do and are able to support us, a digital subscription is just £1 for your first month. Try us today by clicking here.