Fleetwood Town youngster feels like he's playing alongside friends
Fleetwood Town defender Harrison Holgate says it means more to be featuring in the first team alongside players he has known for many years.
Friday, 26th March 2021, 8:00 am
Holgate has been experiencing a breakthrough season in the Cod Army's first team, having made 23 appearances so far.
Ged Garner has also forced his way into the starting XI and Holgate believes the presence of his academy team-mates has proved a calming influence.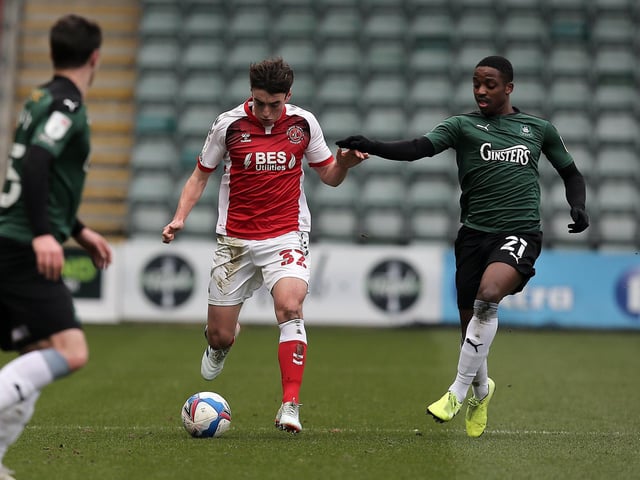 Fleetwood Town defender Harrison Holgate Picture: Dave Peters/PRiME Media Images Limited
The 20-year-old said: "Hilly and I have been a centre-back pairing for the U23s for quite a while now, so we know what each other is about.
"Having Cal in there, he's got a little bit more experience and he's played higher up.
"It's really good, it's almost like playing with your mates.
"It really helps your confidence when you're back there. It's a good feeling to look around the pitch and see lads that I've played with for years there.
"Ged Garner's up front , I know Ged's game inside out and he knows mine, so you're sort of on the same wavelength.
"It helps you settle into the game when you see lads that you've been with for years, it calms you down and you're less nervous. You can grow into the game then.
"We've all been on the same journey, we've shared the same dressing room.
"There are a lot of ups and downs in football and we've all been there for each other at that time.
"It's good that, now, a lot of us are doing well at the moment."
Nevertheless, it hasn't all been plain sailing for Holgate, who was dropped by Grayson earlier in the year.
The youngster, however, was appreciative of the way in which the head coach did it.
Grayson explained Holgate had to work more on defending set pieces, communication which he felt was a great help.
Holgate said: "He took me out and told me that it gave me a chance to have a physical and a mental break, because I'd played quite a few games.
"He's been very good with me and a lot of the other young lads.
"When you get brought out of the team, you want to know why and what you need to work on, and what you need to do to get back into the team. He's been great for that."
Thanks for reading. If you value what we do and are able to support us, a digital subscription is just £1 per month for the first two months. Try us today by clicking here