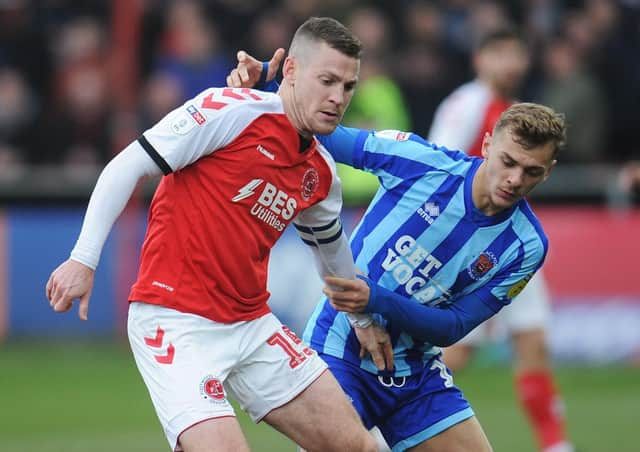 Fleetwood Town's Paul Coutts
Like players around the country, the midfielder is sticking to a training regime while his club is off limits, ready to return to action as soon as possible.
However, with any return some way off, he feels it is increasingly likely that the period between this season ending and the next one beginning will be brief.
If the lockdown is effectively the close season for 2020, the 31-year-old would like to recharge properly before a possible 11 months of near continuous football.
The Scot explained: "Football obviously isn't the priority at the moment, everybody's health is. It's clearly right to suspend football indefinitely until everything calms down but it's not easy to say when that might be.
"Twice they set dates for this month when we could return to playing. But as a player you don't want them to keep setting dates and changing them because that just means you get a different training programme from the club.
"I'd like to see the season finish, especially with us two points off the top two at the minute. If this is going to be our close season now, it should be announced really.
"We usually have two-and-a-half or three months off in the summer. If we say this is our break for this year, we could finish this season, then maybe have a two-week break and just roll into next season.
"We have nine league games to play and we aren't going to need a break after that. But if this is our break now, it would be better for that to be clarified because it's hard to go two full years on the bounce. You would be asking for injuries across the board."
This week's letter from the EFL to its member clubs indicated no return to training before mid-May, then a possible eight weeks of play to complete the season.
In that case, the turnaround between seasons would be brief if 2020/21 was to start anytime near the usual early-August slot.
Coutts added: "I think the remaining games should be rattled out Saturday-Tuesday to get the season done. Then you'd have a real short turnaround to get all the fixtures sorted out and roll into next season.
"But it all depends on the coronavirus situation because that will dictate everything. It's all well and good trying to set targets but you just don't know with something like this."