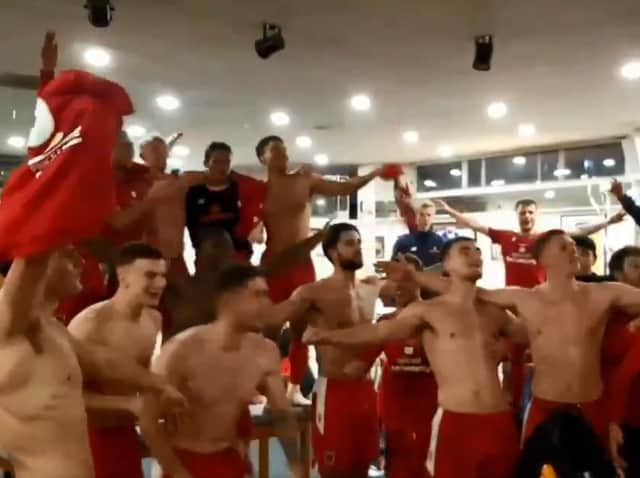 Chorley players performed an Adele classic after their win yesterday - CREDIT: Chorley FC
The Magpies came from a goal behind to defeat the League One high-flyers and arguably cause the shock of the round thanks to goals in the second half from Connor Hall and Lewis Baines which sent the club through to the third round of the competition for the first time in their history
And after the full-time whistle was blown, the players and staff belted out their club anthem - Adele's 'Someone Like You'.
Chorley had celebrated their victory over Wigan three weeks ago by singing the No 1 hit from 2011, with the video getting close to a million views on Twitter.
And following yesterday's victory, the familiar tune was performed once again in the changing room as players and staff belted out the song, with the video going on social media.
Chorley boss Jamie Vermiglio said his players had written their own piece of history.
He said: "You read about these things, you sit down and watch Match of the Day and see a non-league side, you see one of their lads scoring.
"You see them getting all the media attention, the publicity and you think why can't that be one of our lads, why can't it be us. Let's go and do it.
"They have written their own little piece of history, something that nobody can take away from us.
"Our league form is not great, we have got a big league game on Tuesday which is massive for us but we have got to savour this."
Thank you for reading this article on the Blackpool Gazette. If you value what we do and are able to support us, a digital subscription is only £1 for your first month. Please give it a try today by clicking here.