OPINION: Blackpool's busy January revamp may not be over yet
Blackpool weren't initially expecting to be too busy ahead of tonight's transfer deadline, but circumstance appears to have forced them into action.
Friday, 31st January 2020, 10:45 am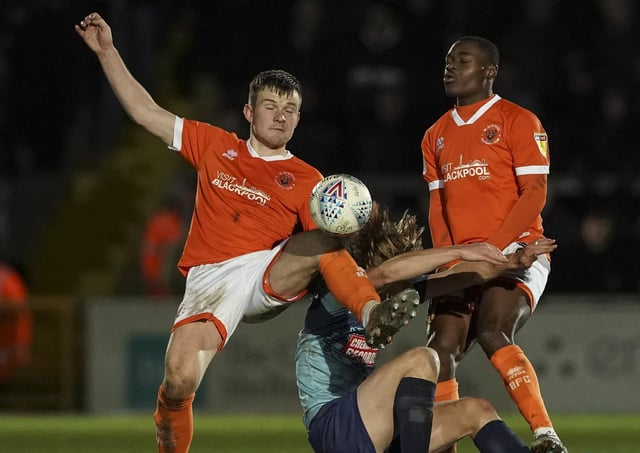 Jordan Thorniley and Marc Bola have both joined Blackpool this month
As Simon Grayson predicted towards the beginning of the window, Blackpool have already been one of the busiest clubs in England this month.
At the time of writing, there have been eight incomings in total, nine if you count Grant Ward's arrival at the end of December.
Jordan Thorniley, Connor Ronan, Gary Madine, Chris Maxwell and Kiernan Dewsbury-Hall are all new signings.
Meanwhile, Marc Bola has returned on loan from Middlesbrough while Ben Heneghan has had his loan move extended until the end of the season.
James Husband, meanwhile, had his stay at Bloomfield Road made into a permanent one.
There have been plenty of outgoings, too, which was required to get rid of some of the deadwood.
Nick Anderton, Ryan Hardie, Rowan Roache, Emil Jaaskelainen, Michael Nottingham, Christoffer Mafoumbi, Jordan Thompson and Adi Yussuf have all left either on loan or permanently.
By the time this column goes to print, Ben Tollitt could well have departed too.
While the Seasiders were certainly in need of some freshening up, the only concern is they might have done too much business, too soon.
The new arrivals are going to have precious time to gel, which is not exactly ideal given the team's recent poor form.
In an ideal world the January transfer window is the time to make slight tweaks to your squad with one or two signings, rather than wholesale changes.
But Grayson clearly felt he needed an overhaul of sorts to bring in his own players and that's exactly what has happened, so he certainly can't complain that he's not had the backing of owner Simon Sadler, who has put his money where his mouth is.
So, is there any chance of Blackpool doing any last-minute deals before the window shuts tonight at 11pm?
Prior to the Wycombe Wanderers game I probably would have said no, but as we all know things change very quickly in football. A fifth defeat in six appears to have focused minds.
Grayson and co clearly set out to do their business early and it's been said from the start that we shouldn't expect a late shopping spree.
But, as always, if something crops up that will improve the Seasiders, then chances are it will be looked at and considered.
The Blackpool boss said after the recent defeat at Lincoln City that he was keen to add a creative midfielder and another winger.
Since then, the creative midfielder has been found in the form of Leicester City's Kiernan Dewsbury-Hall, who netted on his debut off the bench in Tuesday night's dire defeat at Wycombe.
But, as yet, there's been no arrival of a new winger. That's not to say there definitely will be one today, but it suggests the club have at least been looking.
The Seasiders could perhaps do with another right-back, which is the only area of the pitch where they don't have direct cover.
Should Ollie Turton pick up an injury, there's no obvious replacement although Liam Feeney can fill in there despite not being the most natural of defenders, as he has admitted.
But should Turton become unavailable for selection for whatever reason, it wouldn't be a major crisis as Pool could always shuffle things around and go to three at the back.
Indeed, I'm not entirely sure why they've deviated away from that system anyway given it proved so successful earlier in the campaign.
Of course major outgoings can never be discounted, although the club are in no need to cash in.
It wouldn't be a huge surprise if Charlton Athletic returned with a last-ditch offer for Armand Gnanduillet, having earlier been priced out of a move.
They've recently been linked with Bristol Rovers' forward man Jonson Clarke-Harris and it appears they're actively searching for a late replacement for their star striker Lyle Taylor, who seems to be on the move himself.
But unless the Addicks deliver a bid that is too good to turn down, I don't anticipate Gnanduillet leaving.
Curtis Tilt could well interest League One table-toppers Rotherham United, who are keen to bolster their defensive options after former Seasider Clark Robertson suffered a recent injury.
However, I gather that's more likely to be a move that transpires during the summer, when the defender's contract expires.
Either way, it appears the Seasiders are likely to be more active than we had originally anticipated. Happy deadline day folks.