Matt Scrafton column: Blackpool skipper's opinion provided food for thought
Chris Maxwell is always an open and honest speaker, which is why I was so intrigued to hear his recent comments.
Friday, 2nd April 2021, 12:30 pm
The goalkeeper, speaking on Blackpool's new preview show, conceded the Seasiders were a little naive heading into the season in thinking they were simply going to blow teams away and storm to the title.
For context, and to ensure I don't misquote Maxwell, here's exactly what Pool's skipper said: "We had just come off the back of a fantastic pre-season playing against some top opposition in Liverpool and Everton, where we had performed very, very well.
"The expectation we put on ourselves was that we were going to win every game and we were going to be a team that were going to win the league.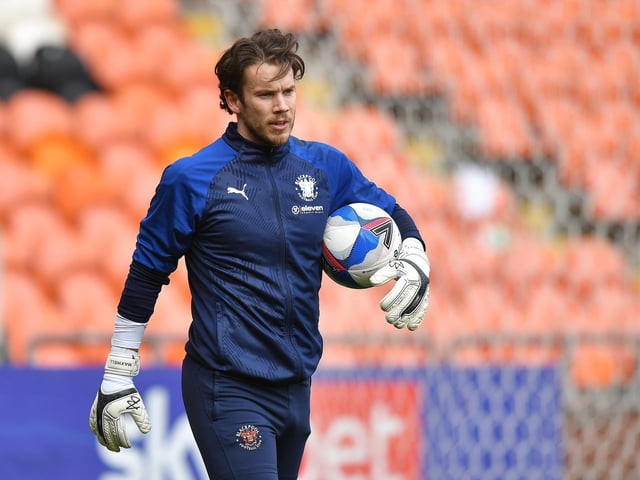 Blackpool skipper Chris Maxwell had some interesting things to say
"I think we were quite naive in thinking that."
If Blackpool's players were a little over-confident, it's fair to say they came crashing back down to earth following their horrendous start to the campaign, where they lost six of their opening nine games.
Regular readers of this column will testify that I had issued a warning for caution before a ball had been kicked.
There was enough to be excited about anyway without needing to hype up things even more, which piled on undue pressure.
This is the first time I've seen or heard someone from the club, a pretty high-profile figure too, publicly admitting they had perhaps got a little too carried away.
Very rarely does a side finish 13th one season and race into the top two the next, it's usually more of a gradual process.
Because of Simon Sadler's summer investment, at a time when a lot of other clubs were cutting their cloth accordingly because of the pandemic, that put a target on Blackpool's back.
I lost count of the number of supporters, managers and owners of rival clubs who accused the Seasiders of splashing huge amounts of cash.
Adding even more pressure onto yourselves by coming out and making fairly outlandish declarations made no real sense to me, even if it was just a ploy to sell more season tickets.
The 'P' word (promotion), was very much the mantra of all the pre-season media sessions we took part in.
The promising friendly performances against both Everton and Liverpool only served to heighten the excitement, which – in hindsight – probably wasn't for the best.
Sometimes it's much better to go about your business quietly and go under the radar, as Blackpool have done over the past three or four months.
From what I recall, Neil Critchley was the only high-profile figure who didn't make any outlandish pre-season claims.
That's probably because Pool's head coach was fully aware this was his first full season in senior management and he was only just beginning what would become a steep learning curve, so he preferred to proceed with caution.
As it turns out, Blackpool's tough start turned out to be a good thing, as bizarre as that sounds.
Regardless of the field, any time in life you experience success, more often than not you have to endure hardship along the way.
Since that nightmare opening nine games, the Seasiders have learned to stick together, to be tough to beat and adapt to the division.
It's no coincidence only four defeats have been suffered in the following 26 games.
Now Blackpool find themselves around the play-off spots, added pressure inevitably comes with their lofty position. How will they deal with it on this occasion?
Only time will tell, but I suspect Blackpool's harsh early-season lessons will stand them in good stead.
Their top six credentials will certainly be tested over the Easter period, starting today at Swindon Town.
John Sheridan's side are struggling in League One, hovering in 19th, one point above the relegation zone.
Only Bristol Rovers have lost as many games as them, 22 from their 37 games.
Having won their last four away games, you'd like to think Blackpool will have enough to continue that sparkling record and fingers crossed they do.
However, as we've seen in recent weeks, the Seasiders tend to come unstuck against the sides they might be expecting to beat.
You only have to look at their recent games against Plymouth Argyle, Burton Albion and AFC Wimbledon as cases in point.
Whatever happens, the Easter Monday clash against Gillingham promises to be a hugely significant one.
Steve Evans' side are in superb form at the minute, losing just two of their last 11 games, beating the likes of Lincoln City and Ipswich Town and drawing with Hull City, Portsmouth and Doncaster Rovers.
They also stole Blackpool's play-off place from them earlier in the week when they overcame struggling Wigan Athletic 1-0.
It leaves the Gills in sixth, one point and one position above the Seasiders, but Critchley's side have four games in hand. Nevertheless, Monday's clash is a huge one.
Bombastic as ever, Evans recently proclaimed his Gillingham side will get promoted should they finish in a play-off spot.
If they do finish in the top six, let's just hope it isn't at Blackpool's expense.
Thanks for reading. If you value what we do and are able to support us, a digital subscription is just £1 per month for the first two months. Try us today by clicking here