Brett Ormerod column: Blackpool must focus on Swindon Town first
I must admit, I never enjoyed the double-header over the Easter period. In fact, I used to hate it.
Friday, 2nd April 2021, 8:00 am
We used to play Saturday and then Monday, two games in three days, which used to kill me if I played in both of them.
If you played the first game, you'd be back in the day afterwards for a warm down and then, on the Monday, you'd try and play even though you were still feeling the after-effects from the Saturday game.
When you put so much into a game, your body can often feel worse on the second day rather than the day after, because it catches up on you.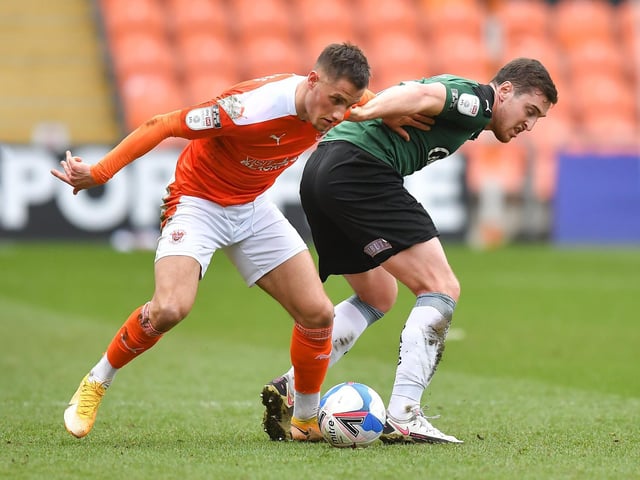 Blackpool head into today's game on the back of a draw with Plymouth Argyle
I always found it tough because every game is competitive. There are no easy games, so it was always physically demanding for me.
Plymouth, under Ryan Lowe, are a decent team in League One and they have some good players, so to come from 1-0 down and lead 2-1 was very good – but to concede in stoppage-time would have been disappointing for Neil Critchley.
Is it a loss of concentration? I don't know, it's impossible to say, but the unbeaten run continues and, who knows, it could turn out to be a good point at the end of the season.
Blackpool are still very well positioned coming into the final stages of the season.
Sometimes it's only natural teams drop off a little bit and look to defend a lead late on in games, although from what I've seen, Blackpool are actually looking to stay on the front foot and it's just one moment that has cost them.
It happened plenty of times to sides I was part of when you concede late on.
The difference is often having the right mentality, looking to keep attacking and extend the lead rather than settling. Again, I don't think Blackpool are doing that.
It often feels like a loss when you concede with the last kick of the game to draw because you're winning and so close to getting three points.
On the flipside of that, I've also scored late on in games to nick a draw where it feels like a win, but in both situations you still only come out with one point.
It isn't a bad result though, Plymouth are a decent team and it keeps Blackpool's unbeaten run going.
They're still unbeaten, they're right outside the play-offs with games in hand, so it's looking good.
To go 11 unbeaten is a great achievement, so the players should be brimming with confidence.
If you look at the form table, they're right up there and it's looking like they'll have a major part to play in the play-off picture during the last 10 or 11 games of the season.
It will be interesting to see how Blackpool cope with the added pressure because they've been chasing the top six all season and often found themselves in mid-table. Now that's not the case.
I don't think they'll be looking down, they'll be looking upwards and thinking how high they can get in the table.
It should be a confidence-booster being this high because they've come from nowhere.
Even when they were winning in recent weeks, it seemed like they wouldn't get any nearer to the top six. Now, all of a sudden, they're right there.
If they can keep their running, then who knows? There's still quite a few games to go, and with the Easter double-header coming up, if you pick up a maximum six points then you could be looking really good.
It's Swindon Town up first today and they're right down there and fighting for their lives, which always gives you a different challenge.
Sometimes playing teams down the bottom are very difficult.
Swindon changed the manager earlier in the season and, personally, I never found it easy playing at the County Ground, so it's a tricky game.
You can only look at that game, you can't look ahead to the Easter Monday fixture against Gillingham, as big as it is.
Once you start doing that, you start losing concentration. Right now, the Swindon game is the most important one.
Gillingham beat Wigan earlier in the week and have taken Blackpool's place in the play-offs, so you can't hide the fact it's going to be a big game.
I think Neil Critchley and his staff will be telling his players 'the main one is Swindon, let's win that, get that out of the way and then concentrate on Gillingham'.
Thanks for reading. If you value what we do and are able to support us, a digital subscription is just £1 per month for the first two months. Try us today by clicking here