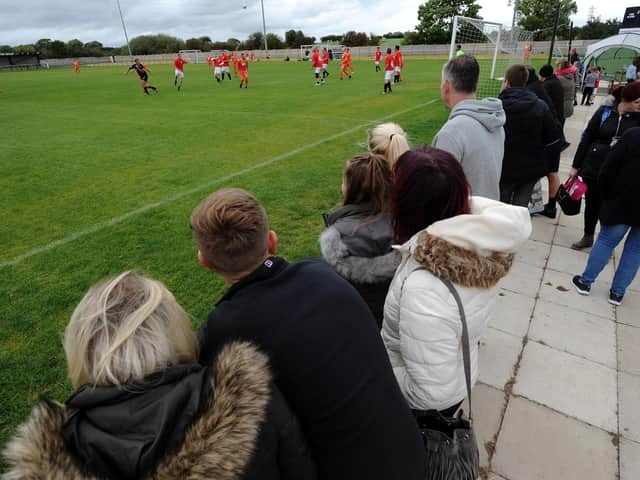 Kellamergh Park will be the new home of Fylde Women
The club has appointed joint-managers from its playing ranks in Kim Turner and Danielle Young, and the team will play home games at Kellamergh Park.
Former manager Conrad Prendergast has stepped aside to focus exclusively on his role at the club's expanding academy.
Fylde Women play in the National League Northern Premier Division, the third tier of the women's game in England.
The team folded in March after four seasons as AFC Fylde owner David Haythornthwaite looked to reduce his investment because of the coronavirus crisis. But within days the chairman was exploring options to reverse a decision he admitted had caused "a furore".
Haythornthwaite told the club website: "We had to make that decision at the time. But by working together to come up with a plan, we are now able to continue with a ladies' team next year, which is fantastic news that I'm delighted about.
"We're putting all new signage up at Kellamergh Par and it will be their home. It was AFC Fylde's ground for a long time as we came up through the leagues (the senior squad train there). It is a ground the ladies can be proud of and can call home."
Joint-managers Turner and Young are former Manchester City players who have been at Fylde ever since the Preston North End team was switched to Mill Farm and rebranded in 2016.
Northern Ireland international Turner said: "I was an attacking midfielder who enjoyed the flair and excitement of the game, so I want to play attacking football. Hopefully I can bring my qualities as a player into my coaching style.
"I think I'll take more of a lead in the coaching aspects because I've had a bit more experience in that role but everything will be a joint-decision. Dan and I will talk about selections and style, philosophy and values. We have a great connection on and off the pitch.
Forward Young said: "I'll still be registered as a player but my primary role will be to manage and I'll look after the admin side. Being on the pitch gives you a different picture and it will be good to be able to influence the game once the players step over the white line."
Turner added: "I'd like to pick Dan every week but she won't let me. She has told me it will only be when she's needed but we'll see how that pans out throughout the season. I'm sure that will be the only thing we argue about!"