Blackpool weekend weather forecast: Watch our weather roundup as Spring 2021 officially begins on Saturday
Here is your weekend weather roundup - as the Fylde coast gets set to officially welcome Spring 2021.
Friday, 19th March 2021, 10:02 am
Updated
Friday, 19th March 2021, 10:24 am
Spring will officially be in the air this weekend, as we welcome the first day of Spring for 2021 on Saturday.
Weather conditions this weekend will mark the occasion perfectly - no rain is forecast, and the sun will make a welcome appearance through the cloud cover on both Saturday and Sunday afternoons.
Last week, the Met Office issued a yellow weather warning for strong winds, which continued last weekend with wind gusts of up to 43mph.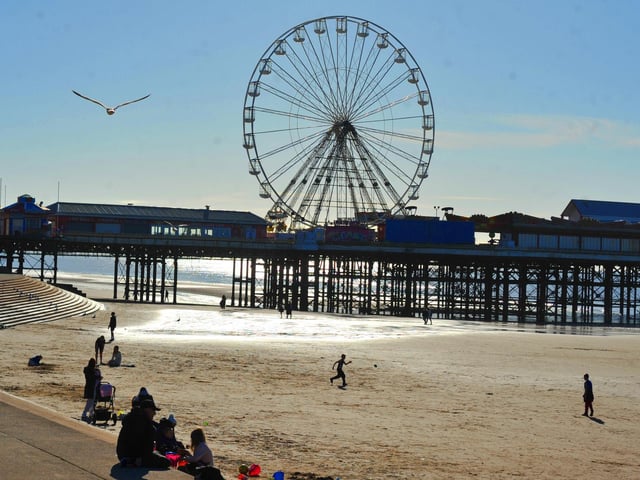 This weekend will be cloudy but dry, as we welcome the first day of Spring 2021. Photo: Daniel Martino/JPI Media
But this weekend is set to be much calmer, with maximum wind gusts reaching 23mph - ideal weather for enjoying a family walk along the promenade or in a park during your daily exercise.
The weekend's conditions won't change much going into next week, either. Skies will remain cloudy on Monday and Tuesday, but the Met Office has predicted a dry start to the week.
The start of Spring and the sun peeking through the clouds might be a welcome change from the cold, wintry weather we've put up with during the majority of lockdown - but the rules still apply until March 29.
People are still legally required to stay at home, and may only leave their house for necessary reasons, such as shopping for essentials, work, education, childcare purposes, and exercise.
But you are only allowed to stay in your local area for exercise, and it is only permitted once a day.
You are only able to exercise in a public, outdoor place by yourself, with the people you live with, with your support bubble, or with one person from another household while on your own - and you must maintain a two metre distance apart.
To celebrate the official beginning of Spring, why not take advantage of 50 per cent off your first six months of a digital subscription to The Gazette?
For just £3.49 for the first six months of our digital plus subscription, you can get unlimited access to our website with fewer ads and puzzles - and access to our newspaper edition app.
Met Office forecast in full
Friday: Cloudy early morning, becoming overcast for the remainder of the day. Maximum temperature 11°C.
Saturday: Very similar to Friday, but cooler. Overcast during the morning, but the sun will come out around midday. A few hours of cloudy weather before turning overcast again by later in the afternoon. Maximum temperature 9°C.
Sunday: Slightly cooler than Saturday. Overcast through the morning until the sun makes a brief appearance early afternoon. Maximum temperature 9°C.
Outlook for Monday and Tuesday:
A dry start to the week, with near-identical conditions to Sunday.
Cloudy skies throughout Tuesday, warming up slightly to maximum temperatures of 10°C.
The Blackpool Gazette is more reliant than ever on you taking out a digital subscription to support our journalism.
For unlimited access to Fylde coast news and information online, you can subscribe here.