Blackpool weekend weather forecast: Watch our roundup for the resort this weekend
Here's your weekend weather forecast for Blackpool as residents and visitors continue to enjoy shopping, hospitality, gyms and attractions following lockdown.
Friday, 23rd April 2021, 7:00 am
As the resort has finally been able to open up to residents and visitors again, we've experienced some milder, dry weather this week.
Temperatures have remained fairly cool, but Friday will see highs of 17°C and sun all day - perfect for a trip to the beach, one of our famous attractions, or for a socially-distanced meet-up in the park.
Temperatures will begin to ease back down from Saturday, but the good news is the Met Office hasn't forecast any rain for the next week.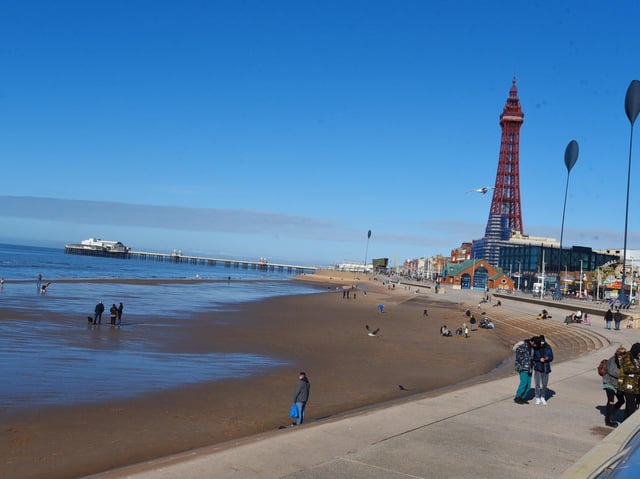 No rain is forecast for the resort this weekend. Photo: Daniel Martino for JPI Media
Saturday will be cooler than Friday, with more periods of cloud cover, but Sunday will see the sun begin to peek back out again.
Going into next week, the sun will not be making quite as many appearances - but it will stay dry.
Cloudy skies with some sunny intervals are expected from Monday through to Wednesday,
Maximum temperatures will cool down to an average of 11°C, and wind gusts will remain at a maximum of 20mph.
Friday: Sunny, becoming cloudier early in the evening. Maximum temperature 17°C.
Saturday: Cloudy changing to sunny intervals by early evening. Maximum temperature 16°C.
Sunday: Becoming cooler again, with sun for most of the day before becoming cloudier in the evening. Staying dry. Maximum temperature 13°C.
Outlook for Monday to Wednesday:
Similar conditions for all three days, with sunny intervals in the mornings and cloudier afternoons. No rain is forecast.
Temperatures dropping slightly to highs of 12°C.
The Blackpool Gazette is more reliant than ever on you taking out a digital subscription to support our journalism.
For unlimited access to Fylde coast news and information online, you can subscribe here.