Blackpool weekend weather forecast: Watch our roundup for final weekend before resort reopens after lockdown
Here's your weekend weather forecast for Blackpool - the last weekend before the lockdown roadmap enables leisure centres, outdoor hospitality and resort attractions reopen.
Friday, 9th April 2021, 10:45 am
It has been quite a turbulent week weather-wise across the Fylde coast so far - snow appeared in flurries on Tuesday, and the sun couldn't make its mind up most days.
Despite the sun we enjoyed over the bank holiday weekend, cooler temperatures will remain over the next few days, albeit still keeping dry.
Looking ahead to the weekend, the good news is it will remain sunny from Friday through to Sunday - but unfortunately the warmer Spring air will not be returning just yet.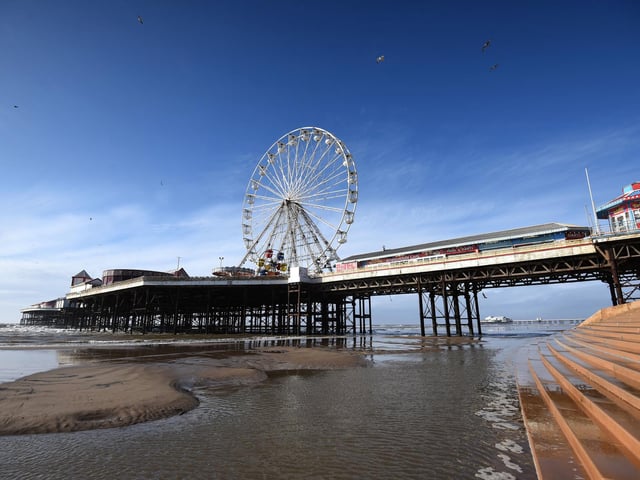 Sunny skies are set for the resort again this weekend, as businesses and attractions get ready to reopen from Monday. Photo: Daniel Martino/JPI Media
According to the Met Office, minimum temperatures could plummet to as low as -1°C on Saturday night.
Sunday will see lots of sunshine, but a chill in the air will remain with maximum temperatures of just 7°C, in comparison to last weekend's 10°C.
From Monday April 12, the resort's attractions, libraries and leisure centres are able to reopen after lockdown, and outdoor hospitality and beauty businesses can welcome back customers.
So, fingers crossed, the sun will stick around for next weekend, when we can spend it visiting attractions with our households or meeting friends in the beer garden!
Friday: Cloudy, changing to sunny intervals by late morning. Maximum temperature 8°C.
Saturday: A sunny day, changing to partly cloudy by nighttime. Temperatures cooling to a maximum of 7°C, and could even drop to below freezing during the night.
Sunday: Another sunny day, with a brief bit of cloud appearing early in the afternoon. Maximum temperature 7°C.
Outlook for Monday and Tuesday:
Rain will make a return on Monday, with sun in the morning turning to light showers by lunchtime. The skies will clear up during the evening, before a dry night.
A cloudy start to Tuesday, with light showers creeping in before lunchtime. The evening will be dry, but it will remain cloudy with highs of 10°C.
The Blackpool Gazette is more reliant than ever on you taking out a digital subscription to support our journalism.
For unlimited access to Fylde coast news and information online, you can subscribe here.