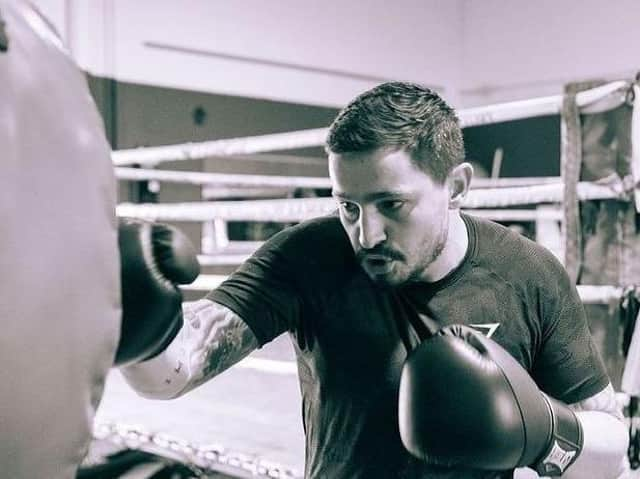 Henry Watkins training in Perth
His broad shoulders filling the Zoom screen, Henry chuckles as he recounts the incident from his home in Perth, Western Australia where he now lives with his fiancée Katie Jackson and their dog Kodah. "I think that sums up my attitude," he says. "I've always had that mindset: I don't want to just do things, I want to do them right."
He also wants to be a world record holder.
Born in Burnley, Henry was never particularly interested in sports growing up. Then, in 2011 and aged 15, he experienced a series of what he calls 'traumatic' events, including the deaths of two people close to him and the negative impact of an emotionally-abusive relationship. He was diagnosed with depression, PTSD, anxiety, and anger issues. Henry needed an outlet.
Henry Watkins with his late grandfather Michael Awty
Inspired by the film The Fighter and encouraged by his uncle, himself a former professional boxer, he took up boxing and immediately fell in love with it.
"If I hadn't had boxing, I'd either be a totally different person or I wouldn't be here," he explains. "It became my go-to thing and, when I wasn't boxing, I was running, skipping, or training. I was so focused it probably became unhealthy, but I loved it because it took my mind off everything else.
"I just clicked with boxing and loved everything about it because it allowed me to channel everything and let out some anger," he adds. "From the start I was desperate for a fight; it was all I could think about, all I could talk about. But boxing also taught me discipline and respect and it's only looking back back now that I can appreciate how it helped me mentally.
"It allowed me to focus my energy into something intense and, while I was training, it felt like any issues I had were gone."
Katie Jackson and Kodah the dog supporting Henry during his 24-hour challenge in 2020
Embraced by his fellow boxers, a natural support network grew around Henry, who says that - to this day - he's still mates with people he's had 'proper punch-ups' with. His confidence boosted, Henry also set about seeing just how far he could push himself physically and, in 2015, took on the challenge of completing 100 consecutive three-minute rounds on a punchbag.
He all but breezed through the challenge and found himself hungry for more. And so were planted the seeds for what would grow to be his now-ironclad determination and refusal to give in.
In 2017, Henry upped the ante, completing a 10-hour, 150-round charity punchbag marathon for Pendleside Hospice in honour of his late grandfather Michael Awty, who died in 2016 at the age of 75. To prepare, he'd go on long, arduous runs; he trained in a 10kg weight vest; and he soaked his knuckles in salt water to stop them splitting against the punchbag.
"My granddad was a huge influence on my life," explains Henry, who says he was 'like a second father' to him. "He was really stubborn; we'd go to the pub together and he'd buy us Old Navy Rum and he'd force that down my neck! For his funeral, we all wore Hawaiian shirts because he hated the idea of people turning up in black."
Henry Watkins at the beach in Western Australia
A few years passed, and then an invaluable opportunity cropped up. Having been working as a mechanical engineer, the chance to take a job as a metal machinist in Shellharbour, some 60 miles south of Sydney, came along and Henry took it. He and Katie moved Down Under in 2019, but old habits die hard: Henry was soon planning another epic challenge.
Appreciating the importance of mental health provision, particularly for young men, more keenly than most, Henry took on a leviathan 24-hour physical trial for mental health charity The Top Blokes Foundation in 2020, which saw him complete eight hours on the punchbag, eight hours on a treadmill, and eight hours on a stair machine. He raised more than £4,000.
During the challenge, Henry at one point knocked the punchbag clean off the carabiner and, during the running segment, completed a marathon in just over four hours - the kind of standalone accomplishment most people aspire to, but which left Henry frustrated. "It felt like I'd cheated and done a plastic marathon by not doing it in under four hours," he says.
Another move was soon in the offing. With family based over in Perth, Henry and Katie made the two-day drive across the breadth of Australia last October - "it was quite daunting, the engine light was on the whole way," he says with a laugh - and have been happily settled in their new home since. But it wasn't long before talk started again of a new challenge.
Henry (right) with boxer Jackson Jon England with whom he's been training
"After the 24-hour event, I remember saying I wouldn't be doing another day-long challenge," says Henry, who wants to break the world record for longest punchbag marathon currently held by Azad Haidarian (55 hours, 10 minutes, four seconds) of Iran. "And, in a way, I'm not - this one will be more like 56 hours!
"I get moments of doubt and panic and think 'why have I said I'll do this?'," he adds, having completed a 12-hour punchbag marathon at Gold's Gym Port Kennedy last month as part of his training. "But I've never found my other challenges as hard as I thought they'd be, so that reassures me."
Having been training with local boxer Jackson Jon England to improve his fitness and with plans to run a marathon with a 50kg training dummy strapped to his back in June, talk turns to Henry's method - mental as well as physical - for overcoming such massive challenges.
"I don't really have a process, I just tell myself I'll be here for a while and try to relax into it," he says. "During my 24-hour challenge, I had a moment at 2am when I just felt fed up, but there was no chance I was giving up: whether I liked it or not, I was there to do it. That's the mentality I get into - I get comfortable being uncomfortable."
In fact, getting comfortable is something Henry is innately wary of, which is why he keeps setting the bar so high.
"To function properly, I need a goal because otherwise I get lazy, I don't look after my fitness, I drink too much, and I get into bad habits," he says. "I feel like a loser who's going nowhere: anyone can sit there and do nothing, but if I can have a go at a world record, why would I not try that? But that means getting up early for runs, sorting my diet out, and training because I've said I'll do it and haven't left myself much of a choice.
"After I finish an event, I have a tendency to spiral," Henry explains. "I relax too much and start eating rubbish and drinking too much because I think I've earned it, which puts me in a negative place. I have a lot going on in terms of mental health issues and the drinking has a big impact on that, which can and has put me in dangerous positions.
"This past year I've had mental health issues come up more and more, all of which can be traced back to when I was 15 and the emotional abuse that I went through and which was never treated," he continues. "It just stayed inside me and rotted away. Luckily, I'm more aware of it now and can speak to people, which is what I encourage other people to do: having a support system and structure helps you deal with things."
Under the Perth sun some 9,000 miles away from home, Henry's preparations for a world record attempt later this year are bubbling away nicely, with a steady routine of boxing, Muay Thai, running, and weight training keeping him honest. "I'm confident," he says, steel in his voice. "I want a world record."
Our conversation echoing across eight time zones, Henry has been thoroughly engaging company, but the man who has a tattoo which reads 'Even heroes get the blues' does tell one blatant lie. "I'm just a standard lad, really," says the man who is anything but.