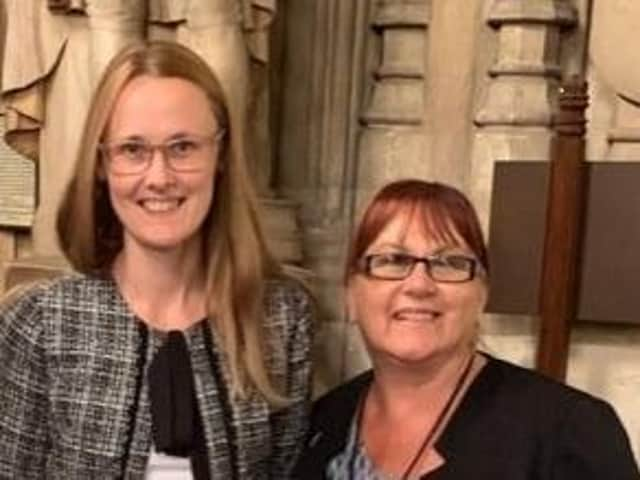 Cat Smith, MP for Lancaster and Fleetwood, with Preesall health campaigner Janet Williams
Janet Williams, 55, from School Lane, Pilling, has joined fellow campaigner Cat Smith, the MP for Lancaster and Fleetwood , in expressing her relief that patients are finally being listened to,
The review of Medicines and Medical Devices Safety by Baroness Cumberlege looked into patient concerns over the anti-epilepsy drug sodium valproate as well as the use of pelvic mesh implants, and hormone pregnancy test Primodos.
It concluded that patients had come to "avoidable harm.
Janet Williams with her sons, left, Lee Williams and right, Philip Williams
Ms Smith, the chair of the all-party group campaigning for justice on Sodium Valporate in pregnancy, said: "All those affected by harmful medicines and medical devices have been waiting far too long for this moment, but justice is finally near, thanks to a tireless campaigning effort.
"Baroness Cumberlege has overseen the development of an excellent report, and its recommendations can make a difference for medicines and medical device safety.
"It must now be followed by action.
"The Government needs to immediately apologise on behalf of the healthcare system to all the families who have been affected by sodium valproate, Primodos and pelvic mesh and set up a taskforce to implement the recommendations."
Mrs Williams, whose two sons were born with disabilities after she took the drug Epilim, has campaigned for decades for recognition that Sodium Valproate ( the main component of Epilim) prescribed to and taken by pregnant women led to serious and distressing neurodevelopmental conditions in their children.
She said: "This drug has been prescribed since 1973 and whilst our concerns continued to be dismissed thousands of children went on to be born with birth defects because their mothers were unaware of the risk.
"I'm delighted by the findings of this review – but it has taken too long for us to get here. I hope lessons are learnt."
In the report Baroness Cumberledge wrote, "I have conducted many reviews and inquiries over the years, but I have never encountered anything like this; the intensity of suffering experienced by so many families, and the fact that they have endured it for decades.
"Much of this suffering was entirely avoidable, caused and compounded by failings in the health system itself."
Ms Smith said she first met Janet Williams, one of her constituents, within weeks of becoming an MP and has worked alongside her and others to get justice for them and the thousands of families around the country affected.
The Labour MP added "At first I found it really difficult to get my head around the fact that drugs were still being prescribed to women that could cause birth defects.
"I thought that the thalidomide scandal that I'd read about in history books had put an end to that kind of scandal happening again.
"It was a real shock to realise that sodium valproate had led to around 20,000 babies being born in the UK with birth defects.
"I'm in awe of the energy and persistence Janet and other campaigners have shown in fighting to be heard. This must never happen again."
Two years ago, following much work by the campaigners, the Medicines and Healthcare Products Regulatory Agency (MHRA), banned drugs containing valproate among women and girls of a childbearing age, unless they have a birth control programme in place.
Mrs Williams started her first support group in 1999 and spent more than 20 years campaigning with another local activist, Emma Murphy.