Free admissions election promise for Blackpool residents waylaid by Covid
A Labour election pledge to give Blackpool residents free admission to attractions in the resort has been kicked into the long grass by the current council leadership.
Friday, 12th March 2021, 1:28 pm
The impact of the Covid pandemic is being blamed for delays in implementing the scheme which the Tories have branded "a cheap election promise".
Conservative group leader Coun Tony Williams said Covid had saved the Labour Council from the "embarrassment" of not fulfilling the pledge.
But Labour council leader Coun Lynn Williams says the scheme will be revisited once Blackpool's attractions return to normal trading conditions.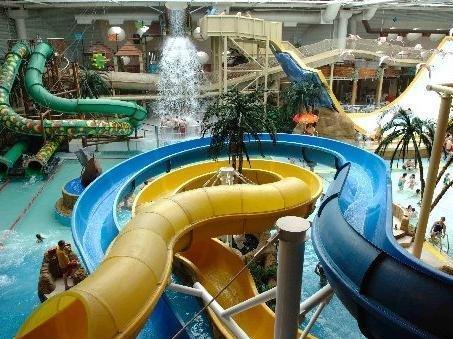 Free admission was pledged to attractions which could have included the council-owned Sandcastle Water Park
She said: "All of our attractions are currently closed and most won't open until mid-May. Even then it will be with restricted capacity.
"By that point, they will have lost February half term, the Easter school holidays and another three bank holidays which are key trading dates in the tourism calendar.
"I am sure that people will understand that our current focus must be on helping our tourism businesses through the catastrophic impact of this pandemic so that at some point they can return to normal operations and full employment.
"Once we get the other side of that challenge we will revisit a workable scheme for local residents."
Council leader Lynn Williams
Conservative group leader Coun Tony Williams has questioned how the scheme could be funded ever since the pledge was first made ahead of the May 2019 local elections.
Today he continued to label the scheme "a cheap election promise".
He said: "I suppose in some ways Covid and the lockdown has saved the Labour council some embarrassment.
"It was rather a cheap election promise but I don't think they had thought it through properly. The only free admissions they control would be to their own attractions which of course are limited.
"It's been a couple of years since they made that promise and very little has been said since since.
"I would imagine any questions asked about the scheme would no doubt be responded with the blame on Covid.
"However since none of the details have been presented I can only think that they had no real plan in the first place. Once again the people of Blackpool have been hoodwinked with another false promise."
Former leader Coun Simon Blackburn made the promise as part of Labour's successful campaign to retain town hall control at the May 2019 local elections.
But almost two years later – and nearly halfway through the current term of office – the manifesto pledge has yet to be fulfilled.
After winning a third term in office, Coun Blackburn said the free admissions scheme would not be funded out of council tax, but some of the council's marketing budget could be directed at the initiative.
The aim was to enable all residents to be 'advocates' for Blackpool as they would share their experience of the town's attractions on social media, therefore helping to promote the town on digital platforms.
At the time he said work was continuing with leisure attractions "to make sure we deliver that in a way that makes financial sense to them and us."
He added there were "142,000 people who could be advocates for Blackpool."
But by November 2019 a Freedom of Information (FOI) request by a member of the public found all discussions up until then had been informal with no written guarantees.
Bispham resident Paul Siddall, who submitted the FOI, was told talks had been verbal. The council confirmed there were "no recorded meetings" in relation to the financing of the scheme, although it is "not intended to impact on council finance budgets".
However in February last year, deputy leader Coun Gillian Campbell told a meeting of the full council an announcement on the scheme was expected within six weeks.
In response to questions, she said: "There will be an announcement from this administration within the next six weeks regarding the residents pass."
But hopes of a launch were thwarted by lockdown and the impact of the Covid pandemic.
* Thanks for reading. If you value what we do and are able to support us, a digital subscription is just £1 for your first month. Try us today by clicking here