Windsurfer dramatically rescued off Fleetwood helps launch RNLI campaign
A windsurfer who was dramatically plucked from the sea off Fleetwood has helped the RNLI launch a new fundraising campaign.
Tuesday, 27th April 2021, 2:07 pm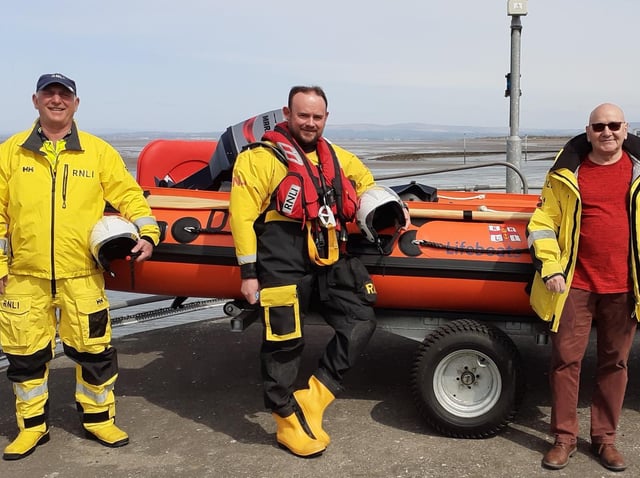 Alan Walker (right) with members of the Fleetwood RNLI crew
Alan Walker from Darwen, says his recent rescue made him realise how vital the RNLI charity is and is calling on people to show their support this May.
Alan returned to Fleetwood to meet his rescuers and to re-open the RNLI shop, which has recently been forced to close due to Covid restrictions.
He is now calling on people to support the charity's Mayday Mile fundraiser, so the volunteer crews can continue saving lives in this North West this summer.
As part of the fundraiser, supporters on the Fylde coast can take part in a number of sponsored walk events between St Annes and Lytham over weekends during the month of May.
Alan said of his rescue: "I had been in the water for nearly two hours and was starting to feel pretty exhausted.
"Seeing the lifeboat come towards me was an immense sense of relief.
"I'm an experienced windsurfer and never thought I'd have to call for help, but it's hugely reassuring to know there are people willing to drop everything and come to rescue a complete stranger in trouble.
"I have nothing but gratitude for the volunteers of Fleetwood RNLI.
"I can imagine how the pandemic has hit the charity hard and would like to see people doing what they can, to ensure the crews can continue answering calls for help.
"The RNLI shop has obviously been closed and one of the ways fundraising has been hit. I'm thrilled it's been able to open again but would also love to see people coming up with their own ideas this Mayday to support these brave volunteers."
The RNLI in the North West of England has this week released its annual rescue figures which reveal lifeboats between Silloth in north Cumbria and West Kirby in Merseyside launched 400 times last year, aiding 240 people and saving 17 lives.
Last year, as lockdown restrictions eased and people flocked to the coast during the summer months, RNLI lifesavers launched 158 times, aided 72 people and saved six lives between June and August alone.
And this year, with more people expected to be holidaying close to home, the RNLI predicts a summer like no other.
The lifesaving charity's Mayday campaign launches on Saturday May 1 and runs throughout the month.
Lytham RNLI are inviting supporters to take up the challenge of a completing the three-and-a-half-mile route from Lytham boathouse to the St Annes boathouse on south promenade.
Runners, walkers, toddlers, pram pushers, dog walkers, wheelchair and mobility scooter users are all welcome to complete the challenge during the month of May and raise funds the RNLI.
To sign up for the Mayday Mile, or to make a donation in support of the RNLI's lifesavers, visit RNLI.org/supportMayday