True crime expert and This Morning's resident psychologist Emma Kenny starts brand new Killer Cults tour at Blackpool Grand
"It's a huge myth that cults will only target oddballs...recruiting clever people makes a cult better" – true crime psychologist Emma Kenny shares the terrifying reality about how ordinary people fall victim to 'charismatic' leaders.
Watch more of our videos on Shots! 
and live on Freeview channel 276
Visit Shots! now
While cults are looking for vulnerability, the TV psychologist says it's an 'unhelpful myth' that they will only target outsiders who are 'easy to manipulate'.
Emma Kenny, who has her own cult following on social media, told Blackpool Gazette: "The last thing you want as a cult leader is people who can't connect and can't work, because recruiting clever and charismatic people makes a cult better."
Who is at risk of being targeted by a cult?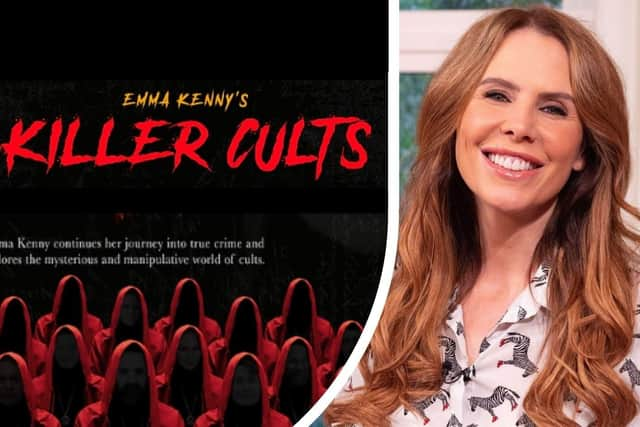 The truth is, cult recruiters are most likely to hone in on someone who is going through a 'difficult transitional phase'.
Emma added: "It might be that you've just lost a baby, that you've recently got divorced, or you're going through a grief process. Maybe you just feel like there isn't much that holds you to your current life, and then somebody provides all those answers. That's what makes it so powerful because so many of us will have those moments of vulnerability."
Emma, 48, has presented countless true crime shows for the BBC and Crime & Investigation Channel, and is known for her phone-ins on This Morning.
Now, she kicks off her second tour at Blackpool Grand – delving into the psychology of cult leaders and their followers, while keeping her audience central to the discussion.
'People think it will never happen to them'
She answers the question – how can ordinary people, living normal lives, choose to leave their families, friends and everything they have ever known to join a cult?
"A lot of people think these things will never happen to [them], but most of the things we do, are for the right reasons at the time, and are full of good intentions. Were not actively going out of our way to find ourselves in trouble."
The UCLAN graduate posts true crime videos to her 219k+ YouTube subscribers. She does in-depth analysis on horrific mass murders, abductions and abuse cases, but always with empathy and compassion.
Emma compares cults to an abusive relationship: "You don't get into a relationship because its domestically violent, you get into it because you're in love and you think you've got a future and it feels great. It's only as time progresses, when you might actually be devoted and have really strong feelings for that partner, that the aggression starts."
Unpicking the Branch Davidians and other notorious cults
During the 2-hour show, called 'Killer Cults', she will analyse some of the most notorious and infamous cases, including Jim Jones and The Peoples Temple, David Koresh and the Branch Davidians and Marshall Applewhite's Heaven's Gate.
What is it about the power and allure of cult leaders that makes them able to control the minds of their members? And why do these so-called spiritual leaders turn into malevolent murderers?
"The tour is to unpick the reality of the fabric of a cult, and if you are likely to find yourself in a situation where you unknowingly and unwittingly join a cult. [I ask] why people who are often incredibly intelligent, with great jobs and the world at their feet in so many ways – why would they follow some charismatic leader, sometimes to their death."
Where can I get tickets for Emma Kenny's new tour?
Emma Kenny's 'Killer Cults' tour starts at Blackpool Grand Theatre, on Sunday 29 Oct 2023.
Tickets are available at this link or by calling the box office on (0)1253 290 190.