Tributes after Fleetwood dad dies aged just 39
Tributes have been paid to a Fleetwood man who died unexpectedly at the age of only 39.
Friday, 12th March 2021, 6:06 pm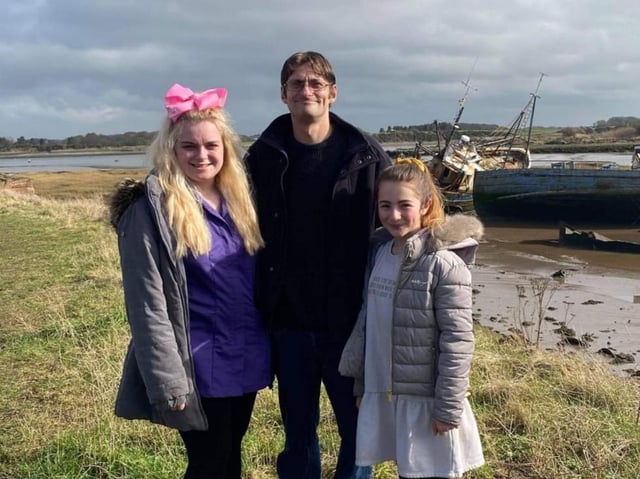 John Redmond with daughters Bethany (left) and Aysha
John Redmond, a father of two, was found collapsed at his home on Mount Street, on Sunday March 7.
John lived alone at the address apart from his Staffordshire bull terrier, Fudge.
He leaves two daughters, 21 year old Bethany and nine year old Aysha, who did not live with him but saw their dad every week.
John, who worked as a forklift truck driver at Northern Express Glass, had just been announced as a Wyre Alliance group candidate to contest a seat on Fleetwood Town Council in forthcoming elections.
John had been suffering from emphysema and daughter Bethany said the illness was thought to be a factor in his death, with tests being carried out. An inquest is expected to be held later in the year.
Bethany, of Broadway, Fleetwood, said: "We know that dad died suddenly in the night and it has been a terrible shock for us all.
"My dad did anything for anybody and would've given his last penny to make sure someone else was happy and comfortable.
"In the last year he had become much more interested in trying to help the community and getting involved in things.
"He helped to fund raise for Aysha's boxing sessions and he decided to stand for the council so he could get even more involved in the town
"Dad had been a DJ and worked at venues all over Fleetwood and Blackpool.
"We're still trying to come to terns with what has happened."
An inquest is expected to be held at a later date.
His funeral will be held at Fleetwood's United Reformed Church, on Agnew Road, on Friday March 26, beginning at 11am, followed by a short service at Fleetwood Cemetery at noon.
However, before that there will be a gathering outside John's house at 10.30am for the release of balloons in his favourite colour, yellow, and those attending are requested to wear something yellow as well.
Coun Colette Fairbanks, from the Wyre Alliance group, was a friend of John's and said: "We're all completely devastated, he was a really amazing guy"
Bethany has also set up a Crowdfunding page to help give her dad a proud send-off.