Three new beers inspired by Cleveleys coastal art
Cleveleys and its seafront sculptures have now been celebrated in the form of a series of mouthwatering new ales.
Friday, 16th April 2021, 6:29 pm
Updated
Friday, 16th April 2021, 6:30 pm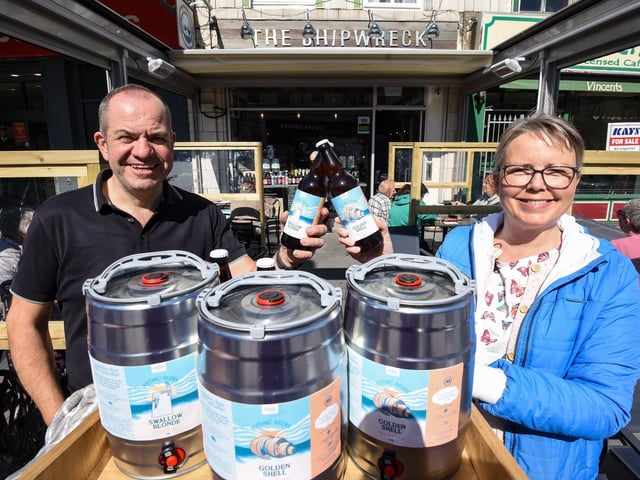 Shipwreck Brewhouse owner Paul Samson with Jane Littlewood, of Care for Cleveleys
The Shipwreck Brewhouse, a micro pub based on the town's main high street, Victoria Road West, has just launched three different brews named after artworks along the promenade such as the Ogre and the Golden Shell.
Owner Paul Samson, whose establishment specialises in ales and gins from Lancashire, wanted to offer some beer that was even more local to the town itself.
He has called the trio of ales the Mythic Beers, named after the Mythic Coast art trail which starts at Anchorsholme and continues along the coast to Fleetwood.
Paul Samson with some of the Mythic Beers
Paul also wanted the locally-themed brews to make a direct contribution to the community, so he has donated £300 from the anticipated sales of the beers to the group Care for Cleveleys volunteers who plant flowers across the town centre.
He said: "This was a way of celebrating this coastline, the artwork and the book.
"I think the idea that you can combine a children's story with a coastal defence scheme and a series of artworks in the way Cleveleys has is brilliant.
"I thought if we're tring to celebrate local scenes, we can also help a group like this who are trying their hardest to make the town better."
Paul says the project is also a stepping stone to the Shipwreck brewing its own ales.
He said: "They are not brewed by us but we are supporting Lancashire breweries and hope to brew our own eventually."
Ogres Hell is a German-style 'Helles' lager brewed by Black Edge of Horwich, while Withnells of Chorley brewed the bespoke Golden Shell golden ale and the Swallow Blond ale.
The Mythic Coast was created in 2012 as a project to link new coastal defence work in Cleveleys to a cultural trail that would tell a story and make the seafront more interesting to locals and visitors.
It was themed on a children's story, The Sea Swallow, written by Gareth Thompson (author) and Hannah Megee (illustrator).
Wyre Council, which was closely involved in the project, also commissioned artwork which include the stone Orge on Rossall Beach and the giant Golden Shell nearby.
The project spans along the coast between Anchorsholme and Fleetwood, aimed at linking the areas up.