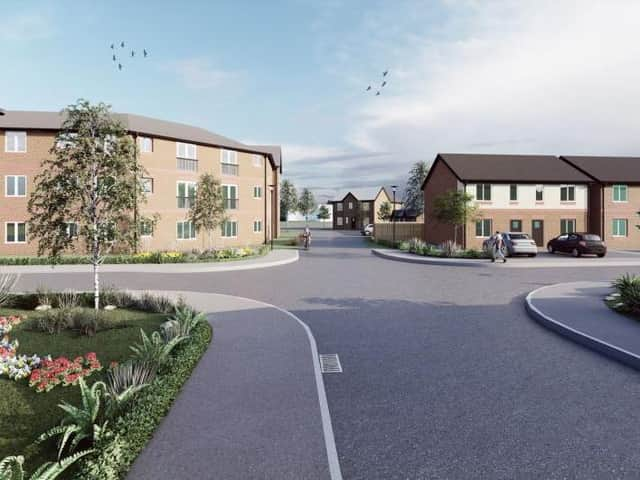 Artist's impression of some of the homes earmarked for the site in Thornton
Breck Homes was granted planning permission earlier this month to build 210 homes on land off Bourne Road in Thornton after councillors on Wyre's planning committee unanimously approved the scheme.
Work on the housing project is expected to start within the next few months and Breck Homes has released artist's impressions of some of the homes for the first time.
The affordable homes scheme includes 85 one-bed, 53 two-bed, 66 three-bed and six four-bed properties.
Andy Garnett, managing director, says the site desperately needed to be tidied up and brought back into use and had been a "blight" on the area for years.
He said: "We're delighted to have obtained permission to construct 210 new homes at this brownfield site.
"It has been a blight for many years and our development will develop brownfield land within the borough, providing quality affordable accommodation for local residents.
"We will be looking to commence construction by the middle of 2021 and hope to have completed the scheme within three years."
The former power station was constructed by ICI in 1953 to power the adjacent Hillhouse chemical plant before its demolition in 2009, clearing the way for a large area of land for potential development.
At the meeting earlier this month Coun David Walmsley raised the question of contamination of land due to the site's previous use as a power station..
In reply David Thow, head of planning at Wyre, said: "It is known that this site has got contamination on it because of previous use as a power station.
"When the previous commission was granted and technically implemented, it triggered a Section 106 contribution which the council's environmental health team been using small parts of.
"That contribution was to assist the council's environmental health team to carry out regular monitoring to work with the developer to ensure all contamination is properly dealt with
"The section 6 contribution was for £10,000 to be used by for ongoing monitoring as the development progresses."