Stray cat saved from certain death after almost being crushed by fork-lift in Kirkham recycling area
A stray cat was saved from almost certain death after it was found hiding in a pile of cardboard boxes at a recycling area in Kirkham.
Friday, 5th March 2021, 3:45 pm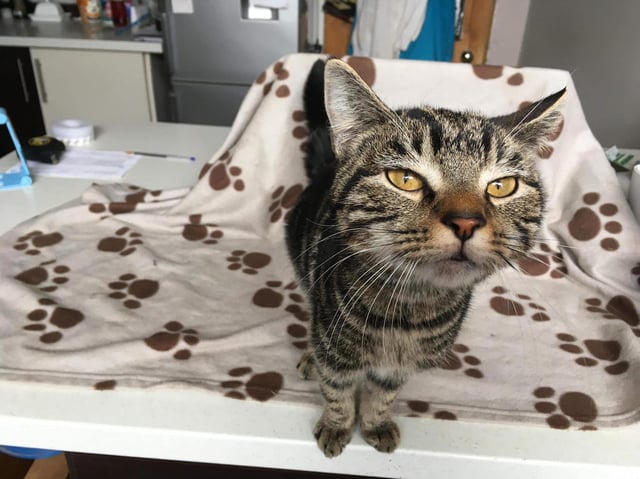 The stray may have used up one of his nine lives!
The female tabby had been spotted by passers-by after she was almost crushed by an unsuspecting fork-lift driver as he moved the rubbish in the recycling area next to Morrisons, off Poulton Road.
Volunteers from Fylde coast pet rescue group Homeward Bound were sent into 'a mild panic' as they tried to catch the feline before she could come to harm on Wednesday afternoon.
The charity's founder Wendy Mulela said: "Most of the cats that come to us have used up at least one of their nine lives.
"This very frightened puss had taken refuge in a recycling station among cardboard, presumably because it was warm. Unfortunately, the cardboard is often compacted and fork-lifted out and we had a report that there was already a near miss.
"The truck had been and put its forks in, unbeknownst to the driver, and we feared the cat had been clipped by the truck. But the silly thing returned to the bin again. There were about six people involved trying to catch her, but it was just so frightened nobody could get a hold of it.
"My main fear was that, if the truck came back, it could easily crush the cat."
Volunteers set up a cage to trap the cat, now nicknamed Dinah, and she was taken to safety.
She is not microchipped, and is believed to be about one year old.
Wendy said: "She was very underweight and she was wearing a collar that I think she has had on since she was a kitten, because it was almost cutting into her skin. She had a check-up and apart from being underweight she had no injuries. She was very lucky.
"If we hadn't caught her when we did she could have ended up seriously injured, so I'm really happy that she was in the trap within half an hour, and we couldn't have hoped for anything better than that."
Dinah is currently living with a foster carer affiliated with Homeward Bound. If you believe she may be your pet, contact the charity on 07789 775476 with proof of ownership.