Star Wars: Attack of the Drones - Sci-fi fans urged not to use drones during Andor filming in Cleveleys
Sci-fi fans have been asked not to use drones in a bid to catch a sneak preview of Star Wars filming in Cleveleys, which begins today.
Saturday, 1st May 2021, 12:30 pm
"Drone activity detection" kit will be put in place to prevent the use of the devices, Wyre Council said.
Fans of the galactic saga have been buzzing with excitement this week as film crews prepare to begin shooting Disney's latest instalment.
Production crews understood to be E&E Industries at Pinewood Studios – who have previously been tied to Star Wars – have arrived for eight days of filming, beginning tomorrow, for an officially unnamed 12-part series.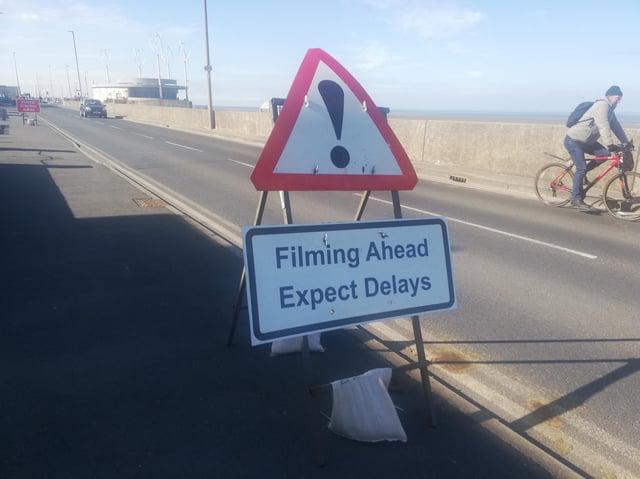 Wyre Council has told excited residents looking to get a glimpse of the upcoming Star Wars action not to use drones.
The series is believed to be Andor, the prequel to hit film Rogue One, following the character Cassian Andor five years before the events of
Mexican actor Diego Luna 41, who also starred as cartel leader Miguel Gallardo in the Netflix series Narcos: Mexico, has been confirmed as reprising his role as Cassian Andor.
As fans of Star Wars will know, Andor is a soldier, pilot, and intelligence officer who joins a Rebel mission to stay plans for the Death Star, a superweapon built by the Galactic Empire – and used by Darth Vader to destroy planets.
E&E Industries has moved into Jubilee Gardens car park to begin filming a 12-part series, believe to be Star Wars Andor. Picture: Copyright of JPI Media
Road closures are in place on sections of the Prom from today until May 11 while filming takes place.
But movie fans hoping to catch a glimpse of the action may be left disappointed, as according to Wyre Council there will be "nothing to see."
The council also said "the nearest bit of sea will be monitored," although it did not specify where or how. And it encouraged keen onlookers to adhere to Covid social distancing rules.
A spokesman said: "There will be nothing to see and there is 24-hour security.
"There will be hoarding and fencing surrounding the entire area including the beach area, the nearest bit of sea will also be monitored.
"Drone activity detection equipment will be in place on the filming days.
"The filming company has strict Covid procedures in place, and will be taking the matter seriously as will the council.
"We'd like more filming to come to the area in the future as it's great for the area, and we'd like to help make the process as safe as possible for everyone."