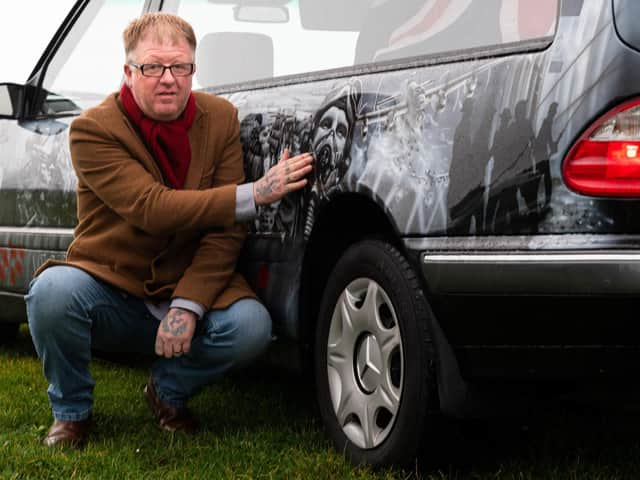 Darren Abey with his latest addition to his fleet, a special armed forces hearse. Photo: Kelvin Stuttard
Instead of the traditional black funeral vehicle, this one has been hand-painted with images connected to the Armed Forces
They include British wartime leader, Sir Winston Churchill, Spitfire and Lancaster bombers, members of the Irish Fusiliers from the First World War, former Royal Navy flagship HMS Ark Royal an even a war horse on the bonnet.
The hearse is the latest project from Fleetwood man Darren Abey, who provides novelty vehicles for funerals.
Illustration of Sir Winston Churchill, one of many images depicting on the outside of the hearse
His others include a yellow three-wheeler Reliant Regal and trailer which he uses for funerals with an Only Fools and Horses theme.
Darren, 53, of Oxford Road, Fleetwood, said of the latest vehicle: "It has been hand-painted by a brilliant artist from Middlesbrough, Stephen Robson.
"The idea was to create a hearse that would be perfect for anyone who had served in the Armed Forces and wanted to be sent out in a vehicle that paid tribute to that.
"I don't think I've ever seen one like it.
"It includes imagery from most of the campaigns, including both World Wars, the Falklands, Iraq, The Gulf and Afghanistan."
Five years ago Darren spent £18,000 in creating a unique funeral vehicle which paid tribute to his dad Stuart's love of horse-racing.
Darren adds: "There is a bit of a different approach to some funerals these days, with people wanting to pay tribute to their loved ones. lives as well as mourning them.
"That's the approach I have when I have these special funeral vehicles created."
Darren has also used his hearses to help raise funds for good causes, previously raising more than £10,000 for charity Help For Heroes.
For more information on the latest hearse, visit www.armedforcesfunerals.co.uk