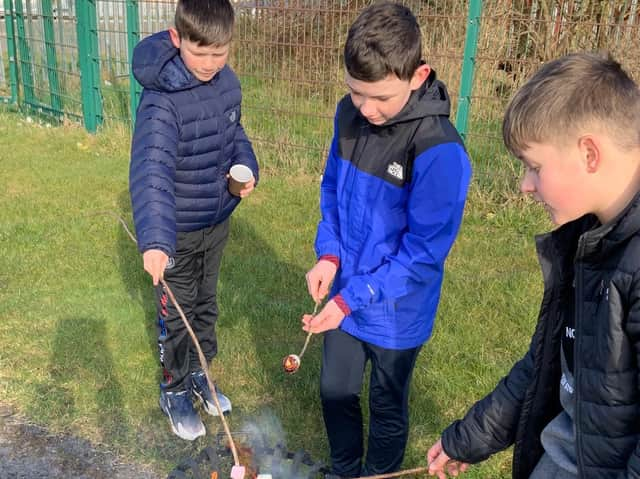 Some of the Fleetwood High School pupils who took part in the courses run by Corporal David Fairbrother
Staff approached Corporal David Fairbrother, a member of the elite armed forces, to deliver a tailored programme of activities to engage groups of pupils from across the school.
From survival skills and shelter building to leadership tasks and teambuilding activities, each student was encouraged to push themselves and build their skills and abilities.
The school, on Broadway, says the initiative has paid off, with a big response from the youngsters.
Corporal David Fairbrother running the sessions
Steve Woodburn, assistant headteacher and lead for boys achievement at Fleetwood High School, said: "We recognised early on that we needed a way to re-engage some of our students during the latest national lockdown.
"Unfortunately, we saw that particular groups of students were really struggling to take part in remote education and in many cases their mental health and wellbeing was being affected.
"When we decided to set up this programme, working alongside Corporal Fairbrother, it was designed to be a way to re-energise and support our students to re-discover the joy of learning.
"Not only did the students have the chance to learn new practical skills, but it was an important opportunity to develop other qualities, including communication, working with others, self-disciplin, integrity and determination."
The programme ran during the lockdown beterwen January and March.
Corporal Fairbrother, 33, is an ex-Fleetwood Rugby Club player who had joined the Royal Marines by the time he was 21.
Having served in several operations across the world, he received a Combined Forces Commendation for bravery during his service on Op Herrick 9 in Afghanistan and has an array of experiences in various contexts having trained in jungle, arctic and desert terrains.
He now spends his time in-between tours, using his military skills and experience to support young people to achieve their full potential and runs the Commando Rugby School and summer schools across the Fleetwood area.
He said: "For me, I can relate to the experiences of the young people here, particularly as I'm a former student of the school and that's a really important starting point for the work that we do.
"I know that by challenging young people to push themselves, problem-solve and work together in practical ways, they can develop strategies and coping mechanisms that they can carry with them throughout their lives at school and beyond."
Mr Woodburn, added: "The impact of this programme for some of our students has been simply incredible, it was like a light was switched back on.
"Students who had not attended any remote lessons were now taking part in every single session that David ran, they were so inspired by someone who has achieved so much and that they could relate to.
"We look forward to building on these activities over the coming months."