School 'Buddies' to help with dangerous parking at Blackpool school
A school has received six 'buddies' to be used as road signs to warn parents and motorists about poor parking.
Monday, 22nd March 2021, 12:30 pm
Updated
Monday, 22nd March 2021, 4:06 pm
The signs will be used outside Westcliff Primary Academy in Crawford Avenue in Bispham and have been funded by local councillors Don Clapham and Paul Wilshaw.
The new signs match the same uniforms as the school's and are just one way of tackling the issue of dodgy and inconsiderate parking.
Coun Clapham said he wants to "cure" the problems that the school is facing.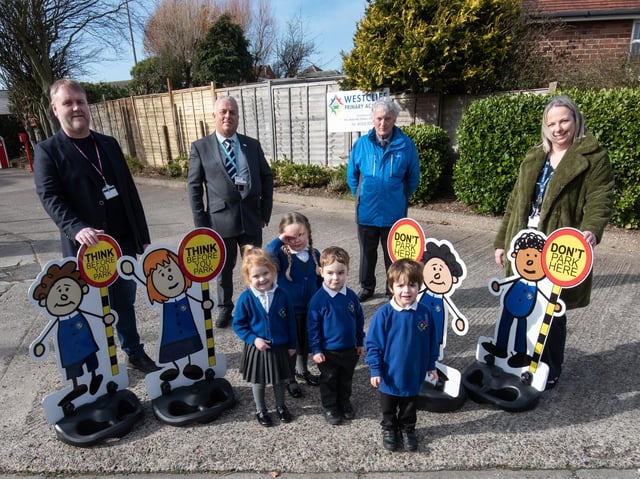 Some of the children with Coun Paul Wilshaw, John Topping from FCAT, Coun Don Clapham and headteacher Amanda Stokes
He said: "We've got a traffic order going through to extend the period of time when the cars can't park in this part of the road and we'll also have enforcement officers issuing spot fines.
We're going to cure this once and for all otherwise a child will get badly hurt and that's what it's about."
Headteacher Amanda Stokes said concerns have got greater in the past few years and the parking has even meant some parents have come into school upset.
She said: "We're finding a lot of families are parking on the yellow zigzag lines and mounting the kerbs. It's obviously a safety hazard for the younger children and we have a lot of families that walk into school with prams and toddlers, so it's quite scary for the parents who can't get past."
Charlotte Pop, Arthur McMurdo and Carter Moore all aged three
John Topping from the Fylde Coast Academy Trust, which runs the school, said: ""I am delighted and extremely grateful to Bispham Ward Councillors Clapham and Wilshaw for supporting our safeguarding work here at Westcliff. Road safety generally and especially road safety outside our schools is a daily concern and always on our minds.
"The Fylde Coast Academy Trust is working closely with all its students and parents/carers to ensure that children can be dropped off at school in a safe and considerate manner. The zig zag lines outside our schools are there to protect all pedestrians entering and leaving school, as are the double yellow lines.
"Hopefully these six attractive signs at Westcliff placed at strategic locations will deter inconsiderate dropping off and parking; essentially safeguarding our children, parents and local residents".
The councillors have funded the signs