Rotary Club's Easter treat for community heroes at Blackpool Ambulance Station
Blackpool's ambulance workers enjoyed an early Easter treat this week, when they received generous chocolate donations from a Fylde coast Rotary Club.
Thursday, 1st April 2021, 7:00 am
Rotary Clubs up and down the country have supplied their local community heroes with chocolate Easter eggs and M&Ms - courtesy of Mars - to thank them for their selfless work during the pandemic.
Terry Harrison, president of Blackpool's Palatine Rotary Club, said he wanted North West Blood Bikes and Blackpool Ambulance Station to receive his club's donations, as "the perfect start to Easter to present them with a special treat."
North West Blood Bikes' volunteers have been delivering emergency supplies to NHS patients day and night - including platelets, samples, donor milk and patient's notes.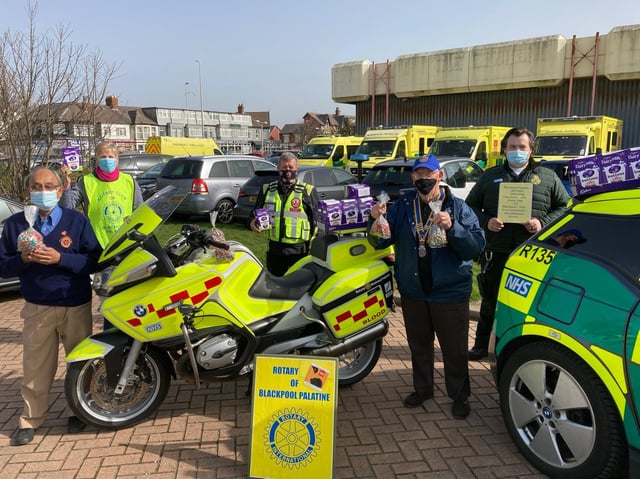 L-R: Rotarians Vas Vasudev and Diane Glister, North West Blood Biker Mark Rooker, club president Terry Harrison and senior paramedic James Gorier. Photo: Palatine Rotary Club
And the sweet treats were also gratefully received by staff at the ambulance station in Parkinson Way, who have been busy saving lives throughout the pandemic.
Dave Rigby, sector manager for Fylde at North West Ambulance Service, said: "You can never underestimate how these kind donations make our staff feel. To know that the community you serve appreciates what you do can have such a positive effect on morale and wellbeing, especially when they are so busy and have been fighting this virus from the very beginning.
"The clinicians and support staff across the Fylde have been brilliant and I am so proud of everything they have and continue to do to support the community of Blackpool and Fylde.
"So again, this kind and generous donations by Palatine Rotary Club means so much, and from me it is a massive thank you to all concerned."