Peter Pan aka Jordan Conway talks Blackpool, Boy George, and what the future has in store
The star of one of Blackpool's most highly anticipated shows this year spoke to the Gazette about his love of Blackpool, his future plans, and what it is like to work with Boy George…
Watch more of our videos on Shots! 
and live on Freeview channel 276
Visit Shots! now
The World's Biggest Panto's spectacular arena production of Peter Pan, starring Boy George as Captain Hook and comedian Jordan Conway in the title role, is coming to Blackpool between Thursday, October 26 to Sunday, October 29.
Whilst the show will mark the legendary singer Boy George's first ever panto performance, 25-year-old Jordan has performed in plenty of stage productions – starting coincidentally with Peter Pan back when he was only seven years old, alongside Nigel Havers.
Ahead of his second Peter Pan performance two decades later, the Gazette caught up with Jordan for a chat, take a look at some of what was said below: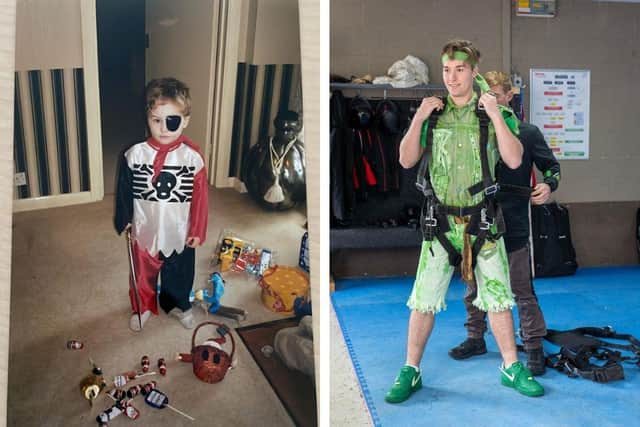 What are Jordan's Blackpool links?
Although the actor/comedian is originally from Scarborough in Yorkshire and grew up in London, Jordan claims Blackpool is a "second home" to him, and indeed the town has helped his showbiz career take off.
Jordan, whose father Jon is a musical producer and director, explained: "Since the age of about five, I had been going to Blackpool every weekend just because of all the friends and connections we had there. Blackpool was The Last Vegas of England in its day and it was kind of the last place where summer shows were on and doing well so I wanted to get involved, I wanted a bite of the cherry so I started doing stand up comedy."
He started his career in Blackpool doing some "very lengthy seasons at Viva Cabaret", after boss Martin Hayward took a punt on Jordan's family comedy show.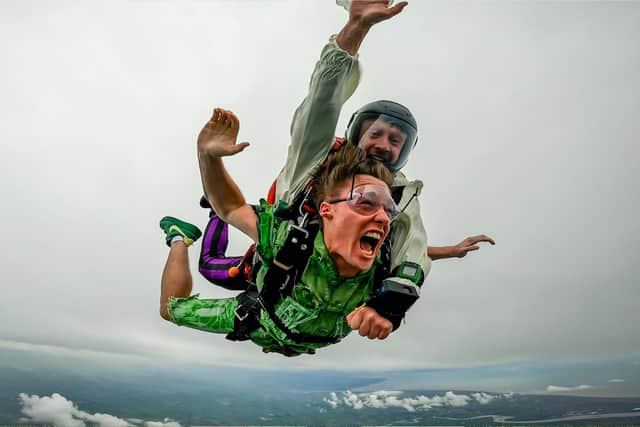 Following his show's success, Martin asked Jordan to be in a Viva musical called Boogie Nights in 2022, but the young star has also performed many more times in the town.
Jordan continued: "I've actually worked the Opera House six times in my life, which is quite incredible. The first time I did it, I was doing Jongleurs and I was supporting Billy Pierce, Shaun Williamson and Bobby Davero, which is just crazy. It was like the fifth stand up comedy gig I've ever done. Then last year with Elf we sold so many tickets that I think we're actually on a plaque outside so I'll forever be ingrained with Blackpool. It's one of my favourite places to visit, it feels very homely… I've probably spent more time in Blackpool than I have with my family down south over the last six years. So actually, it's kind of a first home!"
How did he feel about getting the role of Peter Pan?
Jordan said: "Pretty good but, I wanted to make it a comedy role. I didn't want to be the classical hands on hips, arms to the ceiling, that kind of dancery Pan, if you will. So that was one of the first things that I said when I found out I got it, I said 'I want to play it completely differently, I'm sick of the stereotype, essentially' and thank god, all the producers agreed and I've kind of just been given free will to put my own material in it, which is great!"
What's it been like working with Boy George?
Jordan answered: "A lot of people have given him some stick saying that he's a diva but I've met him six times – I went out for lunch with him at the Pretty Woman Hotel in Beverly Hills a couple of weeks ago – and he's an absolute gem, he's got a really good sense of humour, he's not self indulgent, he puts a lot of jokes on himself as well, which is unusual for someone of his magnitude, and he's a really, really nice guy.
"I think he's gonna do a really good job because he looks great, first of all, on the poster, but he's also good at quick comebacks and off the cuff stuff. So there's a bit in it, when George and I trade insults, and nothing's written in the script, and it's just gonna be me and him going for it on the night, so it's gonna be really, really fun."
Is improvisation not daunting?
Jordan replied in the negative, saying improvisation is actually what he has built his career on!
He elaborated: "You should always give a specific show for an audience, so they walk away knowing that they've seen some magic, and it's specific to them, no one else could have seen it. So I'll always pick on different people, do different things, try something new every show, it just makes it more exciting, as much for the audience as it does for the actors on stage. Because if you can make someone laugh onstage, you're gonna make the audience laugh, and that's kind of the psyche that I got into and I've developed over the last few years."
When asked if he's made Boy George laugh on stage, Jordan confirmed he had, adding "he calls me gobby!"
How will it feel performing in Blackpool again?
Jordan said: "Aside from the fact that it's one of the most prestigious theatres, certainly in the country, if not in Europe, there's a very different feel with Blackpool because of how many it holds but how intimate it feels. Just doing anything on an end on theatre is magical and all the lighting is going to be phenomenal because it's actually lit for Blackpool, as opposed to the other venues. so the show should look the best in Blackpool."
Has he done anything unusual to prepare for the show?
This production of Peter Pan is set to feature the world's highest flying leader of the lost boys and Jordan prepped himself up for the challenge with an almighty task last week.
Under the supervision of Lancaster's Black Knights Parachute Team, the daredevil comedian jumped from 15,000ft with a free-fall drop for a minute before pulling the cord to 'float down in search of Neverland Island… ready to do battle with Captain Hook in the arena tour this Christmas'.
Jordan arrived ready for the jump fresh from training at the Hungarian State Circus school where he has been learning to fly on an aerial strap like the Cirque du Soleil stars to further prove he is the only Peter Pan who can fly without wires.
Jordan commented: "I've just been playing Charlie Chaplin in the West End and researched the amazing stunts the silent movie stars did and decided to make my Peter Pan different to anything that has gone before making him a real high flying funny crazy comedy character, as you would expect in the World's Biggest Panto."
What would Jordan say to those who have yet to grab tickets?
"What are you doing with you lives" Jordan joked before adding "It's a very different style of theatre. Whilst it has all the traditional values of pantomime, it's been completely updated with Cirque stars, me attempting to do some Cirque stuff, songs, dancing – all the regular shenanigans. It's just a feel good fun panto and that should be the reason why you want to book, if you don't want to come out and have a laugh, then it's not for you!"
And what are Jordan's future plans?
He answered: "I'm actually moving to LA straight after this talk because we've had an offer to do the Charlie Chaplin show over there, which is going to be phenomenal. So I'm going to be touring California for most of next year, and then come back to do the Christmas Show, which I can't talk about yet and then I might sneak a little film, but I'm not allowed to say anything as of yet."
Jordan, who has already won some independent film awards for his part in a short film called Grimaldi, which was filmed in Blackpool, added: "That's the goal, films, but you can't beat live theatre."
He is also about to launch his own charity in the upcoming weeks called 'Laughter is the Best Medicine', which plans to take underprivileged families on days out to shows like Peter Pan and in fact some of the bucket collection from the arena tour will be going towards it.