Parvovirus in dogs on the rise in Lancashire: what are the symptoms and how to prevent it
As canine parvovirus is on the rise in Lancashire, here is everything you need to know about the potentially fatal disease, including how to spot it and how to prevent it.
Watch more of our videos on Shots! 
and live on Freeview channel 276
Visit Shots! now
Numerous Lancashire users on Facebook this week have been discussing the potential resurgence of parvovirus, claiming they have received warnings from their vets.
This includes Fleetwood based vetinery practice Mount Vets who has reportedly sent an email and text to its clients warning of a parvo outbreak across the county.
In a Facebook post this week, Mount Vets said "We have seen an increase in the number of cases of Canine Parvovirus in the local area" as it urged people to stay up to date with their parvo vaccinations.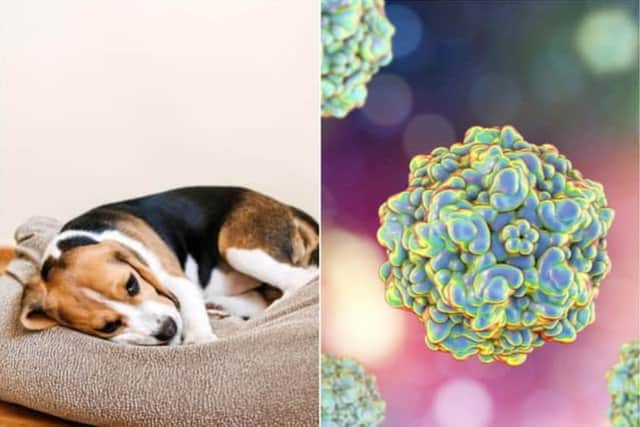 Take a look below to find out more about the desease and what you can do to keep your dog safe...
What is parvovirus?
According to the UK Kennel Club, canine parvovirus is "a highly contagious and very serious disease that is often deadly if left untreated. The virus attacks the intestines and immune systems of affected puppies and dogs, making them weak and unable to absorb essential nutrients from food."
In their Facebook post published this week, Mount Vets added that parvovirus is spread by contaminated faeces, which may not be visible but can be present on food bowls, fur, paws, hands and surfaces, with the virus being able to survive for months in the environment.
What are the parvovirus symptoms?
In their post, Mount Vets wrote: "3-7 days after exposure, a dog may experience symptoms such as inappetence, diarrhoea, vomiting, lethargy, dehydration, increased heart rate, fever, collapse & sepsis. Sadly, it can be fatal."
The UK Kennel Club further explains that a high temperature, lethargy and inappetence tend to be the first signs, whilst vomitting and diarrhoea (often severe and with blood in it) comes after.
How can you prevent the spread of parvovirus?
The UK Kennel Club say "Vaccination is the most effective way to protect your dog from parvovirus", explaining that a dog should first have had a vaccine when they were a puppy, but then require regular additional boosters as part of their annual vaccinations.
They also say when taking your dog for a walk, try and ensure they do not come into contact with poo from other dogs.
The importance of vaccination is reiterated by Mount Vets, who announced they were changing their vaccine protocol, now offering an extra booster between primary vaccines and the first booster for pupplies, and for fully vaccinated dogs, offering a parvo booster.
Mount Vets also said: "Practice good hand hygiene and use effective disinfectants to kill the virus."
Are some dogs more susceptible to parvovirus?
Young puppies who have not yet achieved full immunity, dogs that have not had a vaccination and dogs that are not up to date with their vaccinations are most at risk of being infected.
What should you do if you think your dog has parvovirus?
The UK Kennel Club issues the following advice:
-Contact your vet for advice straight away. Time is of the essence, so the sooner your dog receives treatment, the greater the chance of recovery
-Keep your dog away from other dogs while you're on the way to the veterinary practice to prevent the spread of the virus
-If you have more than one dog in your house, then talk to your vet about what you need to do
-If your vet does confirm that your dog has parvovirus, ask them for advice on how best to decontaminate your home and garden