Nolan sisters share their favourite things to do in Blackpool from watching the illumations to catching a Blackpool F.C. game
The Nolan sisters have revealed their favourite places in Blackpool saying they are "blown away" by some of the "amazing" attractions.
Watch more of our videos on Shots! 
and live on Freeview channel 276
Visit Shots! now
The stars, who were recently honoured with a blue plaque celebrating their success at The Cliffs Hotel, where they launched their career 50 years ago told The Blackpool Gazette all about the places they treasure in the town.
Anne says: "Stanley Park is one of our favourite places to go. They have an amazing art deco cafe that we eat at a lot. We go there anytime our relatives come down, we take them there for afternoon tea.
"The park itself is absolutely wonderful - it has won park of the year, it's really good."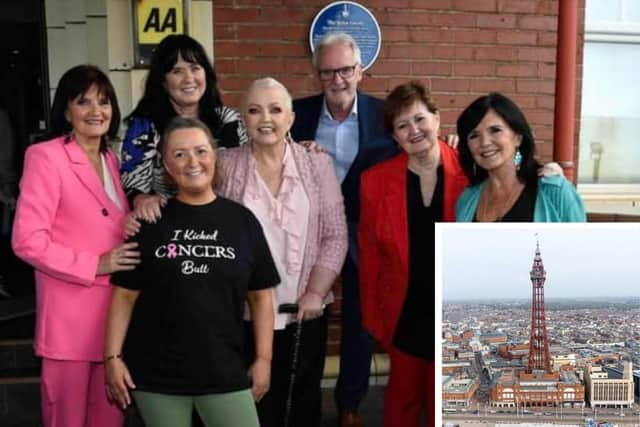 Linda says she is the most prolific user of the park, often catching up with old school friends for a bite to eat among its grounds.
She says: "I meet my school friends there, it's just an easy place to go and meet them and I phone the girls and say "I'm going to the park would you believe? and we will have brunch or lunch. She jokes: "It sounds very posh, but it's not!"
Coleen said she is blown away by the popular spot
She says: "I love the park too.
"I love the whole park and every time I am there I am just blown away by how beautiful it is - it's fabulous.
"It's also the way the park is used, it is always full of families and dogs."
Coleen says she also loves The Beachhouse restaurant on the prom when she is in the town.
Anne revealed she takes the kids in the family to Blackpool Zoo a lot over summer and her daughter visits Blackpool Zoo every Christmas Eve as a special treat.
Anne says: "Blackpool is amazing. It has The Sandcastle for indoor swimming, The Pleasure Beach and the tower - it's a great place for kids and for holidays."
Linda, who says the sisters used to visit the tower ballroom with their parents, had some words of advice for visitors to the town and to the tower. She says: "When you go to the tower - look up. The roof It's so beautiful and you can have afternoon tea there.
Denise said: "I have family over from America and they were blown away by the ballroom - they absolutely loved it."
The siblings revealed that as seasiders they also love Blackpool Football Ground, and have often enjoyed going to watch the matches.
Ann says her ex-husband played for football and Maureen's ex boyfriend was captain.
Linda joked: "But then it became too painful to watch."
Anne says this year she thinks the much celebrated Blackpool illuminations are even better this year and described them as 'gorgeous' revealing she has already visited them this autumn.
She says: "I went round them and they seemed even better this year.
They have improved on them.They are absolutely gorgeous"
Coleen said of the illuminations: " It's the memories of looking around them as a child and the fish and chips afterwards.
"It was a proper treat day out with your mum and dad."
When you list everything we have just listed - it is a fabulous town for families.... but it still needs a lick of paint."