'My family cried as they said bye' - Blackpool dad talks about his battle with sepsis and losing his leg to the deadly condition
A dad who nearly died and had his leg amputated after catching sepsis after being injured in a football match has talked for the first time about his ordeal and to raise awareness of the deadly condition.
Tuesday, 2nd March 2021, 10:01 am
Dave Cram, 41, lives on Glastonbury Avenue in Marton with wife Keeley and six-year-old daughter Robyn and described himself as "fit and healthy" – and never believed he would end up fighting for his life at his age.
The injury happened while Dave was playing football in a Sunday league match for the Saddle Inn pub in Whitegate Drive last January.
The delivery driver suffered what he believed to be a groin strain, but later that night he developed flu-like symptoms and the pain in his leg, which had begun to swell, became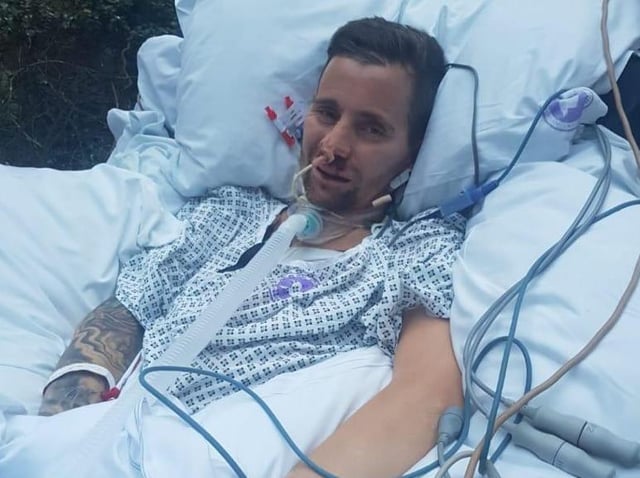 He dropped to seven stone fighting the infection
Dave was taken to Blackpool Victoria Hospital where medics were concerned about the condition he was in, though one knowledgeable doctor knew what was wrong.
Dave said: "I've broken bones, strained muscles, and been injured but that pain was something else. On a scale of one to ten, I'd say I was at 50. I was rushed into A&E where I remained for seven hours. I was grey, I couldn't wee, and I locked myself in a cubicle in such a confused state.
"When I came out of the cubicle, an intensive care doctor spotted me and immediately put me on a trolley. He rushed me through a fire exit door, and I've been told since that no other patient has ever been taken through a fire exit. He told Keeley that I was dying."
Dave Cram was 39 when he contracted sepsis from a sporting injury
Dave was told he was suffering from a flesh-eating infection in his left thigh, which had caused sepsis – a life-threatening extreme reaction which can cause organ failure and death.
He was put into a coma and taken in for emergency surgery to open his leg, relieve some pressure, and clean out the infection.
During the op, medics discovered Dave's kidneys were failing and his liver was showing signs of damage – before his heart rate dropped to a critically low level.
Dave needed a further seven operations to try to relieve the pressure in his leg but his tissue was so badly damaged it began to poison his body.
Dave with wife Keeley during his recovery
On January 16 – Dave's 40th birthday – his family had to make the decision for him to undergo hip disarticulation surgery to remove his entire left leg, a surgery that he might not have survived.
At midnight, his family and friends gathered around his bed to sing happy birthday whilst he lay in a coma. They left in tears, thinking they would never see their loved one again.
"Well, I had news for them." Dave said. "I came through the operation and started showing signs of recovery.
"I had been resuscitated seven times in total and suffered multiple cardiac arrests, but I refused to give up, even if it cost me a few broken ribs.
He now uses a prosthetic leg and has been in rehabilitation
"When I woke up from the coma, the first person I saw was my brother Lee, and I thought to myself, 'Things must be bad if he's here!'
"Then I looked around and my wife, my mum, my dad, everyone was there."
Dave's recovery began to progress but he felt wiped out. He'd lost all muscle strength and couldn't breathe properly.
For ten weeks, he had to be bed-bathed, needed a catheter, had tubes in his throat, and a tracheotomy. In the space of a few weeks, Dave said he had changed from a strong, sporty, hard-working guy to a five stone bag of bones who struggled to even move.
He said: "All I wanted to do was get on crutches and get out of there."
And, just as things were improving, Dave's bowel split while he was being rolled in his bed.
With six-year-old daughter Robyn
He was rushed to Royal Preston Hospital to receive emergency micro-surgery to repair the damage.
He had multiple blood transfusions and bounced back again. But he then developed pneumonia – all while he was still recovering from major surgery.
Unsurprisingly, it was at this point Dave's mental health took a turn for the worst. He said he was "seeing monkeys running on the ceiling" through sleep deprivation and, due to the medicine he was on being so strong, he was scared to go to sleep because of "frightening nightmares".
He'd also developed a huge bed sore on the back of his head, which has since left a large bald patch.
But, eventually, after three weeks, Dave was repatriated back to a high-dependency ward at the Vic.
The turning point in Dave's recovery took place in the high-dependency ward.
He began his rehab and remembers trying to sit up in the first session and feeling so dizzy and disorientated. But eventually, he learned to move his fingers, arms, and remaining leg.
Just three weeks into his rehabilitation, the pandemic hit and it was becoming more and more prevalent within the hospital, meaning his visits from his family and friends became less frequent.
The ward told Dave that, if he could manage to get out of his bed and get on to a commode within the next 2 days, he would be able to go home.
He said: "That was it then. My challenge had been set and I managed to do it. I was discharged from hospital the day before the first lockdown was announced.
"They had a hospital bed put into my front room and also a commode. A district nurse came to the house three times a week to change my dressing.
"I remember being so frightened of dying and I didn't want to go to sleep, so Keeley would sleep on the sofa every night to support me."
Dave was eventually assigned a physio and started with small movements because he'd lost all muscle and weighed just seven stone.
He said: "I started with a walking frame and did small walks going to the cupboards and back. I was only entitled to six sessions so a lot was left to me to figure out for myself. I got better and stronger daily and my appetite came back slowly.
"I managed to get upstairs to use the toilet and had a board I could sit on in the bath to shower. I had my first shower in May after five months and it was heaven.
"My dressing came off in July, and around this time I went to the specialist mobility clinic to take the next steps forward using a prosthetic.
"I had so many bad moments of upset, depression, and anxiety during this time. I have a strong support network, but I felt like I needed different support. I spoke with counsellors and psychologists, which did help in parts.
"Throughout this period the country was in and out of the various lockdowns and restrictions, which I found so hard too. I used to love playing football, going to the pub with friends, having a meal, taking my daughter out, holidays, the lot.
"I started at a local gym to try to get my life back on track and I went swimming, rowing, boxing and started doing weights. The boost this gave my mental health was unbelievable. I loved it. I can now drive again too so I no longer have to rely on Keeley to take me places.
"As a funny turn of events, one of my old customers is the England amputee football coach and he invited me over to play football.
"I've been twice now and this has given me a new lease of life. Being with fellow amputees made me feel better and I realised I wasn't alone in this.
"I'm learning three times a week on my prosthetic leg and it's going well, but I meet new challenges every day due to my complex amputation.
"I feel like I can't welcome being an amputee yet because I can't hit some of the challenges out there yet due to lockdown."
After hearing his story, Bambers Remedial Contractors based in George Street in Blackpool town centre donated and installed a wet room for Dave, and numerous celebrities got in touch to offer their support.
Singer Olly Murs donated and sent his best wishes, and Dave received messages from footballers Frank Lampard, Dion Dublin, and Frank Sinclair. Boxer Tyson Fury donated signed gloves, and his life-long favourite football team, Chelsea, donated a signed ball.
Dave said delivery firm DPD, which he works for, has been "unreal" and has helped him with fundraising.
He said: "They have supported my family and recognised the challenges myself and my family would encounter. I was affectionately known as DPD Dave to my customers, and will miss my job as it gave me the freedom I craved.
"DPD have offered me a job when I'm ready too.
"I can't go out delivering parcels any more and I won't be able to get very far on my prosthetic due to the severity of amputation – but I'll give it my all.
"I don't want this to happen to anyone else as it's been horrific.
"I'm starting to accept I'm alive now and stopping questioning, 'Why me?'.
"I accept that I beat the odds and somebody up there was watching over me.
"I feel so lucky that the intensive care doctor spotted me in the waiting room and that, on the day of my operation, the super-doctor was in the building to save my life."
Blackpool Victoria Hospital's man in charge of getting to grips with sepsis, Professor Morris Gordon, said the deadly condition has to be spotted as soon as possible because the longer it is undiagnosed, the harder it is to treat.
He said: "The disease can affect anyone and if it is not treated immediately it can attack the body's own organs and tissues.
"It is the body's extreme response to a serious infection and can cause multiple organ failure. Once that process starts, it is very hard to stop."
New measures were drafted in at the hospital following a number of sepsis deaths, which attracted negative headlines.
In 2014, the Vic's mortality rate was the third worst in the country with 30 to 35 per cent of sepsis patients dying from the disease. This was cut to 15 to 18 per cent by 2019, putting it in the top 30 per cent of best performing hospitals nationally.
Last year, medical director Dr Jim Gardner said pneumonia and respiratory disease were now the main cause of hospital deaths, with sepsis no longer the main killer thanks to measures taken to improve treatment but he said it still should not be dismissed.
He added: "We mustn't let the sepsis work slip but now we are focusing that energy on respiratory."
Dr Ron Daniels, chief executive and founder of The UK Sepsis Trust, said the condition is a medical emergency and should treated like other serious health complications such as heart attacks. He said: "Sepsis isn't rare, and affects at least 245,000 people every year.
"Sepsis is a medical emergency, like a heart attack or a stroke, and we urge people to learn the signs to look out for, so that they can protect themselves and their loved ones from the condition, and to just ask 'could it be sepsis?' if they're worried."
Symptoms of sepsis include fever and chills, very low body temperature, peeing less than usual, a fast heartbeat, fatigue, and blotchy skin.
Dave says while he has not recovered fully, he says he is thankful to be alive