Mum and daughter duo Megan and Rachel are are hit with Harrods for Mother's Day
A mother and daughter duo are made up with the success of their beauty business venture, which has caught the eye of bosses at the world's leading luxury department store Harrods.
Monday, 15th March 2021, 2:26 pm
Megan and Rachel Gray, who opened their first salon Pink Psycho, in Station Road, Wesham last July, have been racking up hits through their fun-filled beauty-inspired videos on social media throughout lockdown.
Their fun dynamic and master make-up and hair skills – shared on Tik Tok – led to them being asked to front a campaign for Harrods, when it launched its first beauty stores outside of Knightsbridge in London last summer.
Now the pair are back to support their nationwide Mother's Day beauty project, 'Sharing is caring', for the special day.
Nail technician and hair stylist Megan said: "It's really nice sharing and all things beauty, and sharing with your mum and looking at different make up and useful products.
"It has all been a bit crazy really. We started the videos as a bit of fun at the start of lockdown, silly things, pranks and then just some easy skills, tips around make up, and found we had a real passion for it, which led us launching our own YouTube channel.
"It's let us get creative and we've found it's been a great way to share our skills and develop our business."
Mum Rachel, a qualified beautician and make up artist of 20 years, said: "It has been a great motivation for us in the last year but also for so many people just to indulge in some self-care instead of everyday slipping into your joggers and throwing your hair up.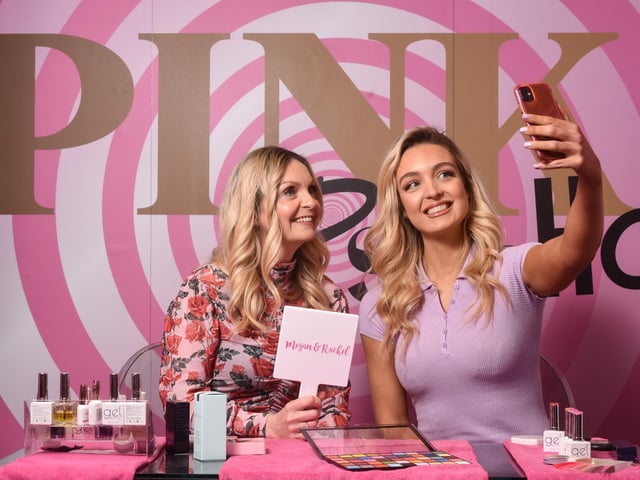 Mother and daughter Rachel and Megan Gray who have set up their joint business venture and their own YouTube channel
"We've had so many people asking us to help them practice a new look or a brow tutorial.
"I had taught masterclasses for years so it's been nice to bring all the elements together and then open the salon too. We can't wait to get back open."
Rachel says she has been teaming with daughter Megan, 24, since Megan was in her early teens and Rachel was travelling around the north west making up brides for their big day.
Her work had been mobile until she decided to take the plunge and launch their first family salon in lockdown last year.
Megan and Rachel have their own YouTube beauty channel and have collaborated on two beauty campaigns with Harrods
She said: "I always had imagined having my own salon, with Megan developing her own side of the business with nails and hair, it seemed the right time to bring it altogether and offer something special.
"We loved it in the time we were able to open and the feedback from clients was just so lovely - we've had to reopen the diary for bookings already because we were inundated with people calling asking for appointments. We can't wait to be back."
Megan had been studying for a business degree at York University, when she decided to return to her creative side and pursue her passion for beauty.
"I'd been doing make up and hair all through my teens as a hobby really and hadn't really considered as a career but I just love it and with people always asking for tips or little hacks that's why we started the videos.
"It was all very light-hearted but it's just grown and grown, we'd been having so much fun and love for it and the videos got better and better."
Megan and Rachel currently release their vlogs on Thursdays and Sundays and also have tens of thousands of followers across their social media.
The pair will also be teaming up with Rachel's daughters Lydia, who is a hair dresser and Lily-Mae, who will be joining the team in the salon on weekends.