Man in council tax row with Blackpool authority over late brother's flat
An empty flat which belonged to a Blackpool man who died last year has become the focus of a council tax wrangle between his brother and Blackpool Council.
Thursday, 4th March 2021, 9:07 am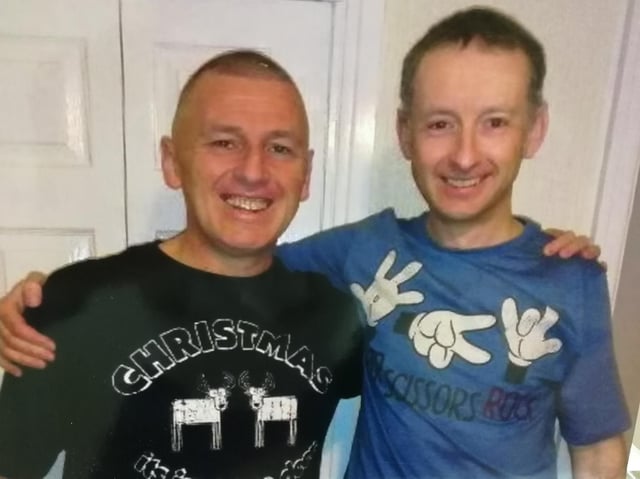 Philip Hurst (left) with brother David
Philip Hurst, who lives in Liverpool, has accused the council of being insensitive and hounding him for council tax payments and other charges, prompting him to make a formal complaint..
But the authority says it can arrange for council tax payments to be suspended until the property has been sold
His brother David Hurst had bought the flat on Hobart Place, Anchorsholme, from Blackpool Coastal Housing but spent the last few weeks of his life at his brother's in Liverpool before dying of cancer last year at the age of 54.
Mr Hurst, 59, who became the legal owner of the property in March last year, said: "I feel I have been hounded by the council for money at a time when I have been mourning the death of my brother from this awful disease.
"I witnessed his terrible last weeks and it was distressing.
"While I have been trying to sell the flat and settle his affairs, the council has been demanding all these payments. They must be aware of the situation."
Payments required included almost £400 of council tax as well as around £250 in insurance and management fees charged by Blackpool Coastal Housing, an arrangement David Hurst previously agreed to as a condition of buying the flat.
Blackpool Coastal Housing was set up by Blackpool Council to manage its housing stock.
Philip Hurst was granted six months' grace from paying any of these bills under rules of probate when a relative who owned a property dies.
It was hoped that the property would be sold in that time, ending any requirement for him to pay bills from the property.
But Mr Hurst said complications, including the possibility that Blackpool Coasting Housing might buy it back, meant there were delays and the flat was not sold - and in September he became required to start paying council tax.
He added: "The grant of probate relief of six months is intended to be used to actively sell the property so as not to attract any further charges, but that is not a very long time when there are things to sort out.
"I have struggled to pay and have made an official complaint about the way Blackpool Council has handled this matter, it has been extremely upsetting."
A Blackpool Council spokesperson said: "We are well aware of the challenges facing residents during these difficult times. We have a team here to offer advice and over the last twelve months they have helped a considerable number of people who have found themselves in a difficult situation.
"We always advise residents to contact us at the earliest opportunity if they are struggling to pay their Council Tax.
"While we do not comment on individual complaints we can confirm it is quite common for executors to ask for council tax payments to be suspended until a property has been sold and the bill can be paid, within a reasonable timeframe. This can be easily arranged through contacting the team."